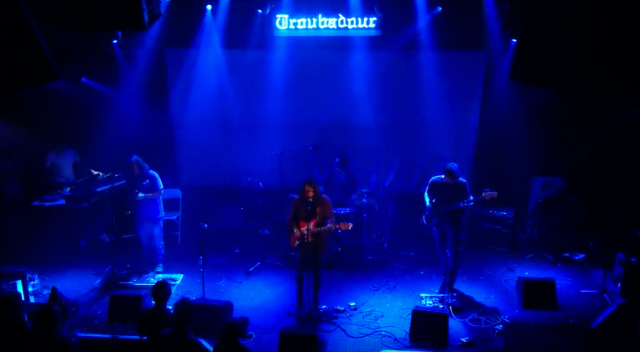 Above: Wistappear performs at CalArts Soundstream in April.
In April, 10 musical acts formed by the graduating class of The Herb Alpert School of Music at CalArts showcased their talents at the annual CalArts Soundstream concert. The event, held at legendary music venue The Troubadour in West Hollywood, Calif., presented forward-thinking and genre-defying music to industry executives and to the Los Angeles public.
The night's closing act was indie rock band Wistappear, who entertained the audience with three songs showcasing their signature guitar-driven sound. Wistappear is headed by Ian Lipson (Music BFA 15) on vocals and guitar, Evan Jiroudek (Music BFA 14) on drums, Dylan Rodrigue (Music BFA 15) on guitars and bassist Marcus Högsta.
This post concludes Summer Soundstream, our weekly series which featured performances from the annual CalArts Soundstream concert.