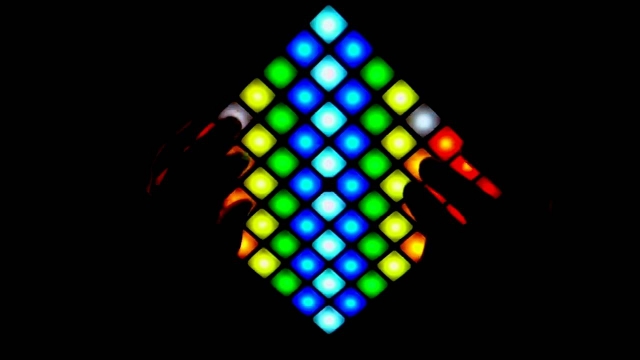 Above: An Excerpt of Daniel Corral's 'Comma.'
The final weekend of the New Original Works (NOW) Festival takes place this weekend (Aug. 4-6) at the Roy and Edna Disney/CalArts Theater (REDCAT), featuring performances by musician Daniel Corral, the performance collective I am a Boys Choir and dancer-choreographer Wilfried Souly.
Comma
Staged in complete darkness, with only the lights of an electronic instrument and the silhouette of the musician's hands visible, Comma is a multimedia musical piece written and performed by composer Daniel Corral (Music MFA 07). The compelling score is inspired by the additive process of minimalist music as grids of light turn on in response to the musician's movements. Comma is a continuation of Corral's album Diamond Pulses which was released through Orenda Records, a record label founded by alumnus Daniel Rosenboom (Music MFA 07).
Above:  I am a Boys Choir Performs This Weekend at REDCAT.
Demonstrating the Imaginary Body or How I Became an Ice Princess
I am a Boys Choir is a queer-identified, interdisciplinary collective formed in 2013 whose work focuses on identity politics and the darker side of human nature. Demonstrating the Imaginary Body or How I became an Ice Princess, was created during a residency in Canada, and where the show—originally about troubled ice-skater Tonya Harding—evolved into a piece about how to win and "the myth of the female athlete."
On Becoming
Using live and recorded music, text, dance and video, Wilfried Souly's piece On Becoming is an exploration of identity and the immigrant experience, reflecting on the way that history shapes the expression of self throughout a lifespan.