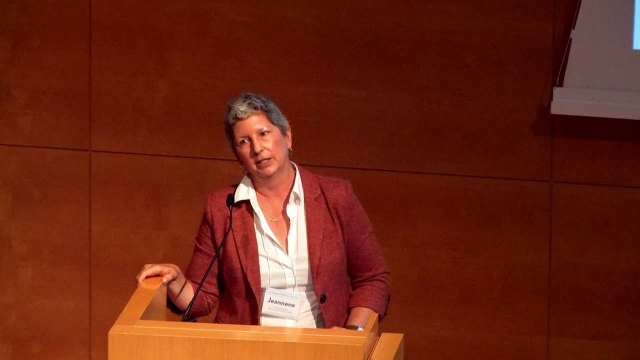 Above: Provost Jeannene Przyblyski gives a 'Spark Talk' at The Getty Museum
Early this summer, The J. Paul Getty Museum in Los Angeles hosted Arts Integration + California: A Convening, featuring a number of discussions, keynote addresses and case studies that presented strategies for integrating the arts into schools and communities. Included in the program was a series of five "spark talks" in which five speakers were given 10 minutes to highlight their ideas on the subject of arts integration. CalArts Provost Jeannene Przyblyski was one of the speakers.
Przyblyski's spark talk was based on "The Some Place Chronicles," her newest and ongoing project that brings together the talents and arts practices of many CalArts alumni and faculty including Dean of the School of Art Thomas Lawson, Art faculty Harry Gamboa, and alumni Sandy Rodriguez (Art BFA 97), Nicole Miller (Art BFA 05), and Isabelle Lutterodt (Art MFA 01).
A project of the Los Angeles County Arts Commission, "The Some Place Chronicles" takes place in five unincorporated neighborhoods in Los Angeles County: Athens, East Rancho Dominguez, Florence-Firestone, Lennox, and Ladera Heights/View Park/ Windsor Hills. The artists involved in the project engaged with the community to discover and map the distinctive character of each of the areas through "creative placemaking," an art practice that rejuvenates public spaces by holding cultural activities in a community through collaborative efforts by artists, government, residents, business owners and civic and community stakeholders.
In her Spark Talk (which is posted in its entirety, above), Przyblyski outlined the ultimate purpose of the project and arts integration as a whole:
We want to build whole people. We want to help the growth of whole resilient citizens who are connected to each other and can reach their own personal goals and be nimble in the world no matter what it throws at them. And on the other hand, we want to see those people living in substantial and vibrant places where they feel connected to one another, where they can live and work and feel completely fulfilled.