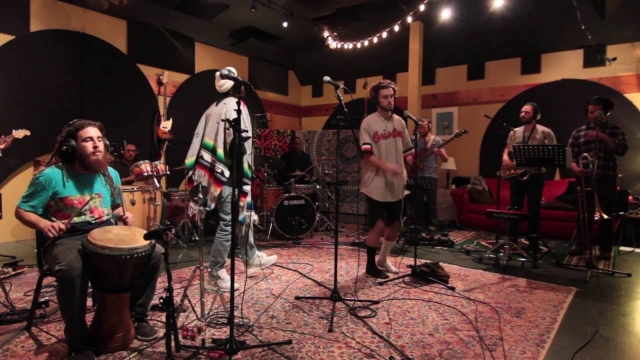 Above: 'Tomorrow (Bouzoukifunk)' by International Connection.
International Connection, a jazz/funk/hip hop music collective, kicks off their Golden Roots Tour, a tour throughout California, at Club Los Globos in Los Angeles, Aug. 20 where they will be joined by fellow L.A. group, Katalyst.
Earlier this month, the group released a video, the first in a live in-studio series that features their original song "Tomorrow (Bouzoukifunk)."
"Our mission is simple. Deliver the funk. Break it down! Give 'em something off the top. Play! Share our words and our sounds with you. Most importantly, have fun!" said music director Joshua Linsky in the tour's press release.
Founded in April 2015, the members of International Connection include:  emcee Aaron Campbell, emcee Connor London, trumpeter Zakaria Solotoff and CalArts alumni percussionist Joshua Linsky (Music MFA 15), vocalist Arielle Deem (Music BFA 14), vocalist Julian Karahalios (Music MFA 15), guitarist Evan Montgomery (Music MFA 15), bassist Alex Hamberger (Music MFA 15), percussionist Bobby Grigas (Music MFA 16), drummer Ben Zurier (Music MFA 16) and trombonist Zack El-Magharbel (Film/Video 14).
The Golden Roots Tour includes stops in several California cities including Santa Barbara, San Francisco and Sacramento and runs through Aug. 27.