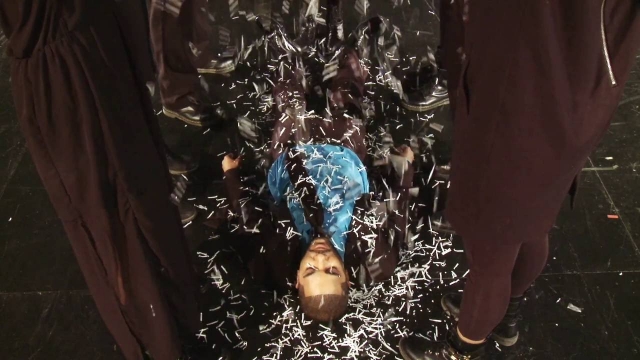 Above: Trailer for Aleshea Harris's 'What to Send Up When It Goes Down'
What to Send Up When It Goes Down by poet, playwright and alumna Aleshea Harris (Theater MFA 14) plays at the Boston Court Performing Arts Center, Aug. 21-23.
The play centers on the experiences, concerns and views of black people but in no way seeks to offer answers or solutions for the troubling effects of institutionalized racism. Instead, Harris wants her piece to serve as a medium for catharsis, reflection, and cleansing.
Harris, who is described by Co-Artistic Director of the Boston Court Performing Arts Center Jessica Kubzansky (Theater MFA 94) as "a fresh-voiced, vibrant, dynamic force of nature," drew from pageantry and ritual to create a theater piece that responds to the deaths of black people in the United States due to racialized violence.
In an interview with The Huffington Post, Harris says:
It's a piece that is, ideally, a tool that communities can access when they're in crisis after someone has been killed. I feel very strongly that we need tools. Every oppressed population, every marginalized population needs tools for coping, and I hope that this can be one for black people.
Harris has presented work at the Costume Shop at American Conservatory Theater, Playfest at Orlando Shakespeare Theater, the Edinburgh Festival Fringe and the Harriet Tubman Center for Social Justice. She is currently working on a piece commissioned by CalArts' Center for New Performance and La Comèdie de Saint-Étienne.
What To Send Up When It Goes Down will be shown on Aug. 21 at 6 pm and on Aug. 22 and 23 at 7:30 pm. All performances are followed by a moderated audience discussion.
Event Details
What to Send Up When It Goes Down
Aug. 21, 6 pm; Aug. 22-23, 7:30 pm
Boston Court Performing Arts Center
70 N. Mentor Ave., Pasadena
Tickets: Free, reservations encouraged