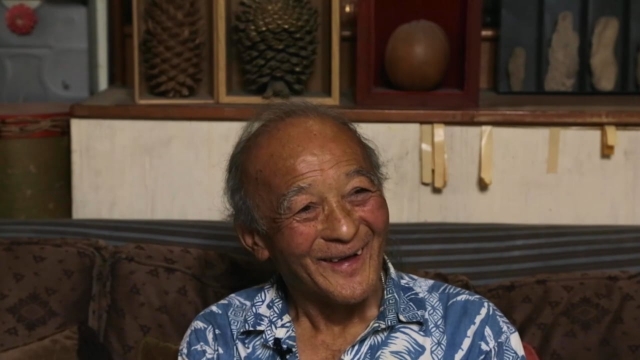 Above: Interview with Kenzi Shiokava about 'Made in L.A.'
Kenzi Shiokava, a sculptor and Chouinard Art Institute alumnus (BFA 72), was recently named a recipient of one of the 2016 Mohn Awards, which were presented in conjunction with the Hammer Museum's third biennial Made in L.A.: a, the, though, only.
Shiokava won the $25,000 Public Recognition Award, which was determined by an audience vote. The other Mohn prize winners are musician and former CalArts faculty member Wadada Leo Smith, who received the $25,000 Career Achievement Award, and dancer and choreographer Adam Linder who earned the $100,000 Mohn Award honoring artistic excellence.
A retired gardener who once worked for Marlon Brando, Shiokava was born in Brazil and has lived in Los Angeles since 1964. He discovered his affinity for sculpting wood in his last year at Chouinard (that merged with the Los Angeles Conservatory of Music to establish CalArts) and even had a solo show at Ankrum Gallery in 1972. However despite his early successes, Shiokava generally remained on the fringes of the art community.
In a recent profile of Shiokava in the Los Angeles Times the sculptor was named one of the show's "breakout stars"—at age 78—with 66 of his enormous wooden totems currently filling an entire gallery at the Hammer. These totems, created from dead pieces of wood taken from the street or construction sites, bring together Shiokava's duality as an ethnically Japanese man who was raised in Brazil.
Made in L.A. co-curator Hamza Walker told the Times, "He doesn't fit any one category, but he fits all of them. He has the Japanese side with the totems, the Brazilian side with the junk pieces and the California side with assemblage. It's all three counts of cultural specificity which makes things complex."
The Made in L.A.: a, the, though, only is on view through Aug. 28. Other CalArtians participating in the show are: Todd Gray (Art BFA 79, MFA 89), Laida Lertxundi (Film/Video MFA 07) and Gala Porras-Kim (Art MFA 09).