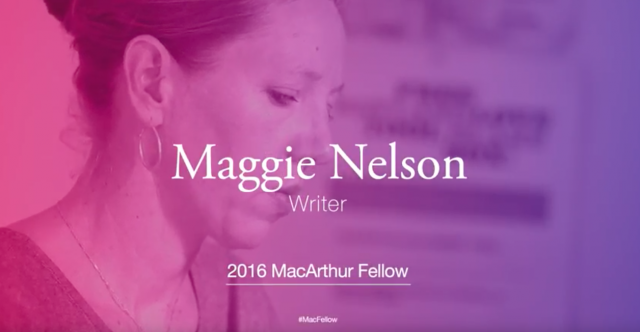 Video: CalArts faculty Maggie Nelson named a 2016 MacArthur Fellow.
Earlier today (Sept. 22), author Maggie Nelson, chair of the MFA Creative Writing Program at CalArts, was named a 2016 MacArthur Fellow—more commonly known as the MacArthur "genius" grants. She joins 22 other fellows who receive a no-strings-attached $625,000 award for their creativity and the potential for future contributions to their chosen fields.
Nelson is the author of much-lauded nonfiction works such as The Red Parts (2007), Bluets (2009), The Art of Cruelty (2011) and The Argonauts (2015) as well as poetry collections Something Bright, Then Holes (2007), Jane: A Murder (2005), The Latest Winter (2003) and Shiner (2001).
"Maggie has a unique ability to write about charged subjects—pain, identity, gender, violence, family, desire—in an entirely fresh genre-crossing way, while maintaining always a clarity and balance of mind," said CalArts President Steven D. Lavine. "She has created her own category of writing and art making. We are fortunate to have her leading the Creative Writing program at CalArts, encouraging students in their own unique directions."
The MacArthur Foundation further describes Nelson's oeuvre:
In all of her work, Nelson remains skeptical of truisms and ideologies and continually challenges herself to consider multiple perspectives. Her empathetic and open-ended way of thinking—her willingness to change her mind and even embrace qualities of two seemingly incompatible positions—offers a powerful example for how very different people can think and live together. Through the dynamic interplay between personal experience and critical theory, Nelson is broadening the scope of nonfiction writing while also offering compelling meditations on social and cultural questions.
Nelson received a B.A. from Wesleyan University and a Ph.D. from the Graduate Center of the City University of New York. She joined CalArts in 2005 and currently serves as Chair of the Creative Writing Program at CalArts.
Previous CalArtians who've received MacArthur genius grants include artist and curator of the Museum of Jurassic Technology David Wilson (Film/Video MFA 76), photographer and video artist Carrie Mae Weems (Art BFA 81), actor and mime Bill Irwin (Theater 72), mixed media artist Mark Bradford (Art BFA 95, MFA 97), Chicano performance artist Guillermo Gómez-Peña (Art BFA 83, MFA 85) and CalArts Trustee Joan Abrahamson.