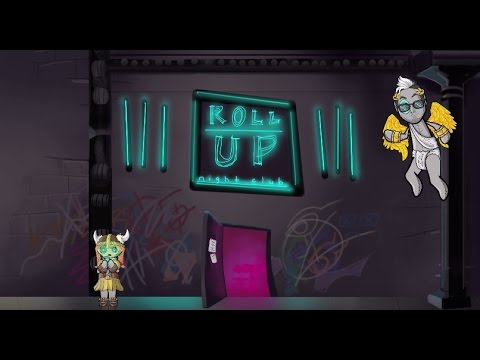 Above: Music video for Fitz and The Tantrums' 'Roll Up.'
Indie pop and neo soul band Fitz and The Tantrums released a self-titled album on June 10, and earlier this week, it released a music video for the single "Roll Up." The band, formed in 2008 by CalArts alumni Michael Fitzpatrick (Film/Video 95) and saxophonist James King (Music BFA 99), collaborated with fellow alumnus Steve Jennings (Film/Video BFA 96) to produce the video.
The animated video from Grasshorse studios tells the story of Cupid, a cartoon version of the lead singer Fitzpatrick, whose mission is to break down the barriers between revelers looking for love. The video, which takes place in a world populated by monsters, is interspersed with performances by co-lead vocalist Noelle Skaggs as a lonely vampire, along with the other band members Joe Karnes, King, Jeremy Ruzumna and John Wicks.
Fitzpatrick wanted the video to visually express the song's lyrics about loneliness, longing, and desire. The idea behind creating people as monsters is to convey the band's sincere understanding of feeling strange and uncomfortable, about having to "put yourself out there" to start new relationships. Fitzpatrick's character is bent on bringing people together despite their attachment to isolating devices like cell phones and social media.
Fitzpatrick, who met Jennings at CalArts, wanted to collaborate with Grasshorse, which previously released an app for kids to use as an outlet to talk about issues they weren't comfortable discussing in other ways. Jennings repurposed assets from the smartphone app to create the animated world in "Roll Up."
Fans can catch Fitz and The Tantrums live during their "Come Get Your Love" tour in the U.S. The full schedule is available on their website.