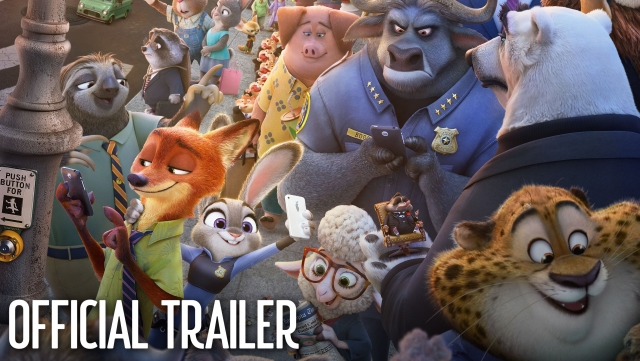 Above: Trailer for 'Zootopia.'
This week, the International Animated Film Society (ASIFA-Hollywood) announced the nominees for the 44th Annual Annie Awards, which has been honoring achievement in the art of animation since 1972.
"The Annie Awards can be a predictor of who'll take home the gold at the Academy Awards," according to an article from Variety. "The Annies have had a history of matching Oscar winners every other year since 2006… Last year, Disney/Pixar's Inside Out [directed by CalArts alumnus Pete Docter (Film/Video BFA 90) and Ronnie del Carmen] won both the top Annie Award and the Oscar."
As in previous years, CalArts demonstrates a strong showing in the list of nominations. Three of the five nominations for Best Animated Feature are directed by CalArts alumni—Finding Dory by Andrew Stanton (Film/Video BFA 87) and Angus Maclane, Moana by Ron Clements and John Musker (Film/Video 77) and Zootopia by Byron Howard and Rich Moore (Film/Video BFA 87). Zootopia alone garnered 11 nominations, including Best Director and Best Writing.
In addition to the many nominations, CalArtians are also being honored for their contributions to the art of animation. The Winsor McCay award, one of the highest honors given to an individual in the animation industry, will be given to three recipients, including CalArts Program in Character Animation faculty Dale Baer (Chouinard 70). The June Foray Award, given for significant and benevolent or charitable impact on the art and industry of animation, will be given to former faculty Sue Kroyer and husband Bill.
The Annie Award winners will be announced at a ceremony on Feb. 4 at UCLA's Royce Hall.
Below is the list of CalArtians nominated:
Best Animated Feature
Finding Dory, Pixar Animation Studios (directed by Stanton and Maclane)
Moana, Walt Disney Animation (directed by Clements and Musker)
Zootopia, Walt Disney Animation (directed by Howard and Moore)
Best Animated Short Subject
Deer Flower, Studio ZAZAC (directed by Kangmin Kim [Film/Video BFA 09, MFA 11])
Pearl, Google Spotlight Stories/Evil Eye Pictures (directed by former faculty Patrick Osborne)
Best Animated Television/Broadcast Production for Preschool Children
Ask the StoryBots, Episode: "Why Do I Have to Brush My Teeth?," JibJab Bros. Studios for Netflix (directed by Jacob Streilein [Film/Video BFA 14])
Above: Trailer for 'Finding Dory.'
Best Animated Television/Broadcast Production for Children
Adventure Time, Episode: "Bad Jubies," Bix Pix Entertainment, Cartoon Network, Frederator Studios (show created by Pendleton Ward [Film/Video BFA 05])
Wander Over Yonder, Episode: "My Fair Hatey," Disney Television Animation (show created by Craig McCracken [Film/Video 92])
Animated Effects in an Animated Production
Character Animation in an Animated Feature Production
Character Design in an Animated Television/Broadcast Production
Wander Over Yonder, Episode: "The Night Out," Disney Television Animation; Character Designer: Benjamin Balistreri (Film/Video 97), Character: Various
Character Design in an Animated Feature Production
Kubo and the Two Strings, Laika; Character Designer: Shannon Tindle (Film/Video 99), Characters: Multiple
Moana, Walt Disney Animation Studios; Art Director Characters: Bill Schwab (faculty), Characters: Moana, Maui, Pua, Heihei, Tamatoa, Kakamora, Lalotai Characters
Zootopia, Walt Disney Animation Studios; Character Design : Cory Loftis, Characters: Nick Wilde, Judy Hopps, Flash, Chief Bogo, Clawhauser, Mr. Big, Fru Fru, Koslov, Bellwether, Yax, Finnick, Doug, Mr. and Mrs. Otterton, Duke Weaselton, Misc. Characters
Directing in an Animated Television/Broadcast Production
Adventure Time, Episode: "Bad Jubies," Cartoon Network Studios; Director: Kirsten Lepore (Film/Video MFA 12)
Pearl, Google Spotlight Stories/Evil Eye Pictures; Director: Patrick Osborne (former faculty)
Directing in an Animated Feature Production
Above: Clip from 'Adventure Time: Bad Jubies.'
Production Design in an Animated Feature Production
The Little Prince, Netflix and On Animation Studio; Production Design: Lou Romano (Film/Video 92); Production Design: Alexander Juhasz; Production Design: Celine Desrumaux
Zootopia, Walt Disney Animation Studios; Production Design: David Goetz; Production Design: Matthias Lechner
Storyboarding in an Animated Television/Broadcast Production
DreamWorks Trollhunters, Episode: "Win, Lose or Draal," DreamWorks Animation Television; Storyboard Artist: Hyunjoo Song (Film/Video BFA 11)
Storyboarding in an Animated Feature Production
Zootopia, Walt Disney Animation Studios; Storyboard Artist: Dean Wellins (Film/Video 92)
Voice Acting in an Animated Television/Broadcast Production
BoJack Horseman, Episode: Multiple Episodes; Tornante Productions, LLC for Netflix; Alison Brie (Theater BFA 05) as Diane Nguyen
Writing in an Animated Television/Broadcast Production
Gravity Falls Episode: "Weirdmageddon 3: Take Back The Falls," Disney TV Animation; Writer: Shion Takeuchi (Film/Video BFA 10); Writer: Mark Rizzo; Writer: Jeff Rowe (Film/Video BFA 11); Writer: Josh Weinstein; Writer: Alex Hirsch (Film/Video BFA 07)
Writing in an Animated Feature Production
Editorial in an Animated Feature Production
Above: Clip from 'BoJack Horseman.'