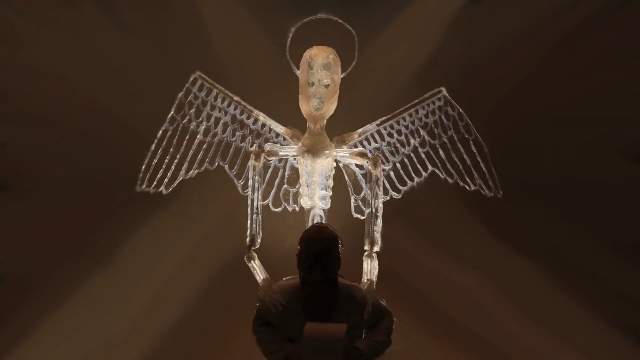 Above: Trailer for 'Apocalypsis.'
This Sunday (Dec. 11), Los Angeles Filmforum presents Apocalypsis, the newest feature film by CalArts alumnus Eric Leiser (Film/Video BFA 05), screening at the Egyptian Theater in Hollywood.
The film, which integrates live action with puppetry and animation, is about a woman in a parallel universe having visions while reading the Book of Revelations, and a conspiracy radio host finding himself tracked by agents of the security state. Leiser's films often explore religious imagery through abstract surrealism. Filmforum describes Apocalypsis as "a low-budget mix of paranoia, premonition, thriller and the pursuit of freedom or transcendence."
Leiser is an award-winning artist, filmmaker, animator, puppeteer, writer and holographer working in New York. His film, Anthropic Principle is included in the exhibition Dreamlands: Immersive Cinema and Art, 1905–2016, currently on view at the Whitney Museum of Art in New York.
The multi-talented filmmaker will be present at the Los Angeles Filmforum premiere to discuss Apocalypsis, as well as his new animated short film, Land Dream, which is also part of the evening's program. Land Dream is a landscape film featuring leaves, snow and light.
Tickets for the premiere are available in advance from Brown Paper Tickets and at the door.