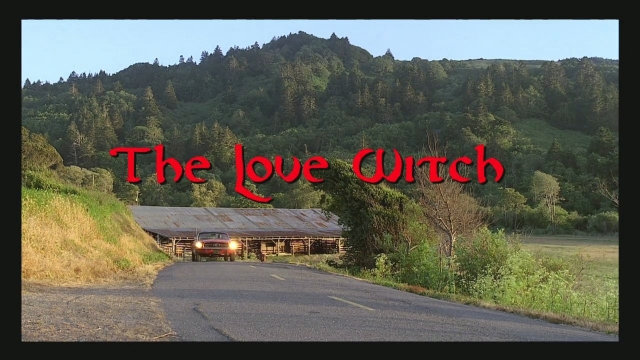 Above: Trailer for 'The Love Film.'
In today's digital culture where streamlining, efficiency and effortlessness are valued most, Anna Biller (Film/Video MFA 93), the filmmaker behind, The Love Witch stands out for her hand-crafted production methods and dedication to classical cinema techniques. Shot on 35 mm, Biller's second feature film, The Love Witch tells the story of Elaine (Samantha Robinson), a beautiful but damaged woman who moves to Los Angeles with the determination to find love using seductive potions and powerful spells. However, Elaine's magic turns tragic and the darker side of her character begins to reveal itself.
Biller spent seven years working on The Love Witch and the result is a visually stunning film that has impressed and delighted critics and viewers. The New Yorker's Richard Brody writes, "The film pulsates with furious creative energy, sparking excitement and amazement by way of its decorative twists, intellectual provocations, and astounding humor." Frank Scheck of The Hollywood Reporter notes, "Destined to be a cult classic, this sophomore effort by Anna Biller is a heady throwback to the American and European sexploitation horror films of the late '60s and early '70s."
In addition to directing the film, Biller took on additional roles on the project: She not only wrote the script but also designed and produced nearly every aspect of the film, including the elaborate costumes.
For the cinematography, Biller had a very specific style in mind and collaborated with fellow CalArtian, M. David Mullen (Film/Video MFA 91) to produce the glamorous and high-contrast look of classic Hollywood cinema. The painstaking process combines camera and lighting practices that complete Biller's highly stylized aesthetic in The Love Witch.
Another driving force and distinguishing aspect in the film comes from Biller's desire to transfer the experience of heartbreak onto the screen. Her interest in female psychology is baked into Elaine's character and adds a richness and complexity absent in historical portrayals of the femme fatale.
The Love Witch premiered at International Film Festival Rotterdam in early 2016 and is still traveling the festival circuit. From Dec. 30 through Jan. 7, the Cinefamily in Los Angeles hosts screenings of the film. Biller will be at the Dec. 30 screening.
The distribution rights for the film were picked up by Oscilloscope Laboratories in May 2016 and fans of The Love Witch can pre-order the film online.