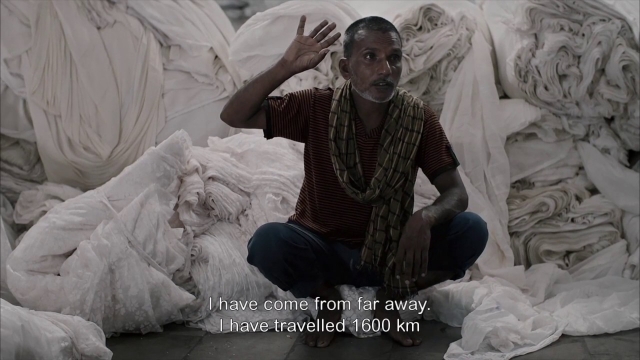 Above: Trailer for Rahul Jain's 'Machines.'
Update, Jan 31: Eliza Hittman's Beach Rats wins the Directing Award for US Dramatic Section and Rahul Jain's Machines wins World Cinema Documentary Special Jury Award for Excellence in Cinematography. Cinematographer and fellow CalArtian Rodrigo Trejo Villanueva (Film/Video BFA 13) was lauded for his work on the film.
---
From Jan. 19 through 29, cinephiles flock to Park City, Utah for the 2017 Sundance Film Festival, the largest independent film festival in the United States. The festival is a showcase for new work from American and international independent filmmakers, and is known for launching the careers of successful filmmakers such as Quentin Tarantino, David O. Russell and James Wan. Among the long list of films screening this year are six works by CalArtian filmmakers.
U.S. Dramatic Competition
Eliza Hittman's (Film/Video MFA 10) Beach Rats receives its world premiere at the festival, with screenings from Jan. 23 through 28. The film follows Frankie, a teenager who escapes the bleakness of his home life by causing trouble with his delinquent friends and flirting with older men online. Everything comes to a head when he starts starts hooking up with guys at a nearby cruising beach while also entering into a cautious relationship with a young woman.
"Beach Rats fulfills the promise of her previous films and takes Hittman's career to a whole new level," according to Sundance's program notes. "With a smoldering lead performance from newcomer Harris Dickinson, this exquisitely crafted, scrupulously authentic, dark, and dangerous film propels Eliza Hittman into a league with the greats."
World Cinema Documentary Competition
In Rahul Jain's (Film/Video BFA 15, Critical Studies MA 17) Machines, the filmmaker brings viewers into one of the thousands of textile mills in heavily industrialized Sachin, India, where sweatshop workers travel great distances and work 12-hour days, sometimes more, to produce fabric that makes it way to couture houses. Machines screens from Jan. 20 through 27.
New Frontier
Eric Darnell's (Film/Video MFA 90) ASTEROIDS! is an interactive animated film, featuring Mac and Cheez, a bumbling alien duo on a space adventure. Viewers interact with the characters in the story, and even dictate how the story goes, through VR technology. ASTEROIDS! plays at the VR Palace throughout the festival.
Travis Wilkerson (Film/Video MFA 01) brings a "live documentary" to Park City, Utah with Did You Wonder Who Fired the Gun?, a reflection on the 1946 murder of Bill Spann, a black man, by S.E. Branch, a white Southern racist and the artist's great-grandfather. Wilkerson's research into the subject is met by destroyed records and uncooperative relatives, who tell him that he is bringing shame to the family.
From the program notes:
Performed in deep, intimate tones by Wilkerson, with home movies and his grandfather's favorite rocking chair haunting the stage, Did You Wonder Who Fired the Gun? is part séance, part detective story, part horror story, and 100 percent American story. As the narrative unfolds, the discomfort becomes electric, and there is a feeling of real risk that spirits will be raised from the dead.
Did You Wonder Who Fired the Gun? is slated for two performances, on Jan. 20 and 22, at Yarrow Hotel Theatre.
Above: Zachary Zezima's 'It's A Date.'
Shorts Program
Animator Zachary Zezima's It's A Date is an animated film that turns the surreality of first dates into a literal alien reflection on communication and vulnerability. The film runs from Jan. 20 through 27.
NEXT
Ki Jin Kim (Film/Video MFA 10) and Giulia Caruso (Film/Video MFA 13) are the co-producers of Seoul-born filmmaker Kagonada's debut feature, Columbus. In a midwestern city known for its modernist building, a young man named Jin strikes up a friendship with Casey, a smart, college-evading girl who works at the city library.
"Kogonada is intrigued by how we experience space and absence, and although we typically see modernism as intrinsically alienating, here it's also a spiritual salve," says the program notes. "A harmonious blend of cerebral and emotional storytelling, Columbus is a lyrical meditation on spiritual spaciousness—and on being in the modern world."
Columbus plays from Jan. 22 through 28.