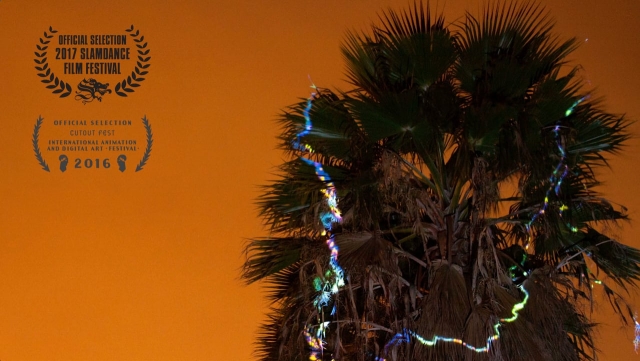 Above: Trailer for Adele Han Li's 'Chella Drive.'
From Jan. 20 through 26, the annual Slamdance Film Festival returns to Park City, Utah to screen work by emerging filmmakers and low-budget independent films. Among the roster of films are a number by CalArtians.
Carolina Charry Quintero's (Film/Video MFA 15) Blua, an experimental meditation on humans and animals, receives its world premiere at the festival. Ryan Betschart's (Film/Video MFA 13) and Tyler Betschart's (Film/Video MFA 15) Girl Becomes Snow, an investigation into death-induced dream ephemera, similarly receives its world premiere. Spencer Holden's (Film/Video BFA 13) and Noah Engel's Experiments in Non-Cinema is a non-cinematic world premiere about making cinematic experiences without a camera apparatus. All three films are part of the Experimental Shorts Block, screening on Jan. 21 and 26.

Above: Trailer for Carolina Charry Quintero's 'Blua.'
Part of the Narrative Shorts program is Rob Chih-Wen Lo's (Film/Video MFA 08) A Doll's Hug, also a world premiere. The short film follows a Taiwanese boy living in a world full of Barbie dolls, and looks at how he learns to fight against the world's violence. Narrative Shorts plays Jan. 20 and 24.
Four films by CalArtians are included in the Animation Shorts Block, screening Jan. 22 and 25. Amanda Bonaiuto's (Film/Video MFA 18) Batfish Soup follows a rural family that welcomes estranged relatives for an afternoon visit. Adele Han Li's (Film/Video MFA 17) Chella Drive, which receives its US premiere, chronicles endless summers in a Southern California suburb, punctuated by a passing El Niño. In Grace Rhee's (Film/Video MFA 13) Insect Bite, a tiny bug tries to figure out what it wants to be. Bronwyn Maloney's (Film/Video MFA 18) Serpentine, receiving its North American premiere, is a surreal exploration of sensuality, self-esteem and deeply rooted fears.
The Anarchy Shorts program includes the world premiere of In a World of Bad Breath starring Oates Wu (Film/Video MFA 15) and Asher Knowles. The film, directed by Christopher Graybill, follows Unyen as he goes for a walk and finds himself in a frisky mood. Also in the program is Jack Turpin's (Film/Video BFA 15) and Davy Walker's The Box, an expressionistic journey through the gilt-pop-entrapment in which humanity finds itself. Anarchy Shorts screens Jan. 21 and 23.
Above: Trailer for Bronwyn Maloney's 'Serpentine.'
View the complete Slamdance Film Festival schedule.