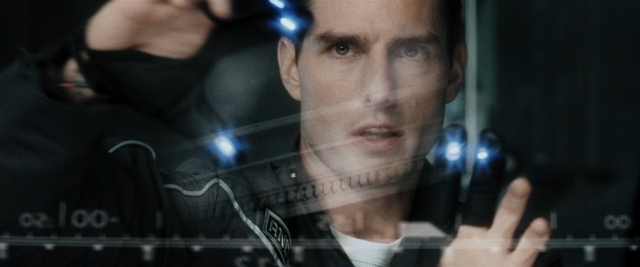 Above: Clip from 'Minority Report.'
Last week (Jan. 19), students and faculty gathered at Langley Hall to witness how science fiction can become reality. John Underkoffler, founder and CEO of Oblong Industries, gave a lecture on the history of user interface design. The lecture was part of the Career Services Entrepreneur Speaker Series, sponsored by CalArts' new entrepreneurial program, Hybrid Incubator for Visionary Entrepreneurs (HIVE).
In his lecture, Underkoffler explained how his team took the conceptual computer interface he designed for the film Minority Report to create working gestural technology that can be used in any board room or office setting today. Mezzanine, the user interface developed by Underkoffler and his team at Oblong, takes us beyond the physical limitations of our current mobile technologies. Instead of offering an experience for just one person at a time, Mezzanine allows the information on your computer or phone to be viewed and manipulated by simple gestures across multiple screens by multiple people in real time.
hive-lecture2

live-lecture1
Unlike artificial intelligence programs, virtual reality or augmented reality, which are also typically experienced by one person at a time, Underkoffler asserts that Mezzanine encourages and embraces collaboration among its users, and creates a graphical expressive language that mirrors human to human interaction. It ignores the boundaries of computers and mobile devices and instead becomes an amplifier for human communication.
Oblong's technological and design trajectories build on the 15 years of research Underkoffler conducted at the MIT Media Lab. It's the only company that combines data presentation and analytics capabilities through gestural input, and transforms "computing from a one person, one screen, one device experience into a fully shared and interactive experience."
Underkoffler has been science advisor to films including Minority Report, The Hulk, Aeon Flux and Iron Man. He is the recipient of the 2015 Cooper Hewitt National Design Award and holds a PhD from the Massachusetts Institute of Technology. Underkoffler is also a member of CalArts' HIVE Advisory Council.