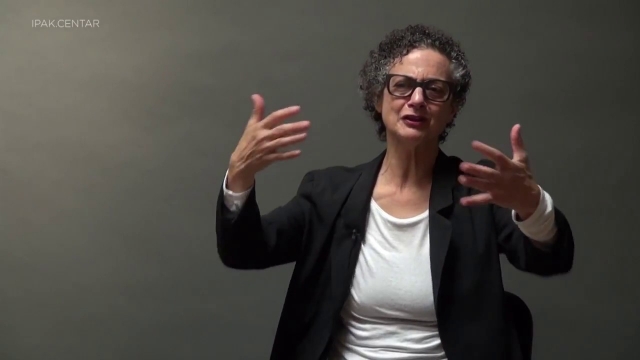 Above: Interview with Lauren Berlant.
Lauren Berlant, George M. Pullman Distinguished Service Professor of English at the University of Chicago, is CalArts' MA Program in Aesthetics and Politics' Theorist in Residence for the Spring Semester.
Berlant writes and teaches on issues of intimacy and belonging in popular culture, in relation to the history and fantasy of citizenship. She received her PhD from Cornell University and has been teaching at the University of Chicago since 1984.
Arne DeBoever, director of the MA Program in Aesthetics and Politics, says in an email:
Berlant's national sentimentality trilogy established her as one of today's most important thinkers on aesthetics, politics and erotics; when Lisa Duggan spoke in our program a few years back, she made us read Berlant's Cruel Optimism (about Gregg Bordowitz, Susan Sontag, Colson Whitehead, Eve Sedgwick, the Dardenne brothers and many more), and it became obvious that Lauren would have to join us at CalArts one day. I wish her visit took place in happier times—but then again, is there anyone else with whom you'd rather get your act together in the current political moment?
As part of her week-long residence, Berlant teaches two seminars open to CalArts students—"Classic Comedy Theory" and "Collective Curation on Comedic Art."
She also holds two public lectures. The first, titled "Humorlessness/Politics" takes place at the Roy and Edna Disney/CalArts Theater (REDCAT) on Feb. 1, at 8:30 pm. The second, "Humorlessness/Comedy," is on Feb. 3 at 7:30 pm at the City Council Chambers in West Hollywood Public Library, part of the West Hollywood Aesthetics and Politics (WHAP!) Lecture Series.
Berlant is the author of numerous books, most notably the national sentimentality trilogy beginning with The Anatomy of National Fantasy: Hawthorne, Utopia, and Everyday Life (1991), continuing with The Queen of America Goes to Washington City: Essays on Sex and Citizenship (1997) and ending with The Female Complaint: The Unfinished Business of Sentimentality in American Culture (2008).