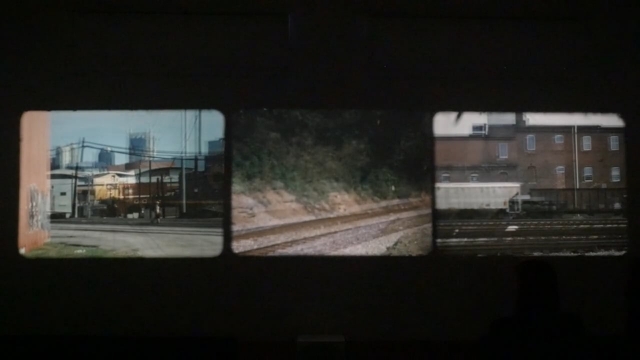 Above: John Warren's 'Phantom Engineer.'
Over the last few months, several CalArtians from the Schools of Film/Video and Theater have earned various awards, fellowships and grants. Following is a roundup of some of them:
Film/Video
John Warren (Film/Video MFA 12) has been awarded an Individual Artist Fellowship from the Tennessee Arts Commission for his triple 16mm projector piece titled Phantom Engineer. The fellowship is awarded annually to professional artists who have shown exceptional talent working in their chosen disciplines.
Ki Jin Kim (Film/Video MFA 10) is one of two producers selected for the Rotterdam Lab. The Rotterdam Lab is a five-day training workshop for producers, designed to build up their international network and experience. Producers participate in networking lunches and panel discussions, among other things.
Theater
Faculty Drew Dalzell (Theater 96) won an Ovation Award for Sound Design (Large Theatre) for his work, in collaboration with Noelle Hoffman, on Unbound Productions' Wicked Lit 2015. The LA STAGE Alliance Ovation Awards recognizes excellence in theatrical performance, production and design in the Greater Los Angeles area.
Daniel Rodriguez (Theater BFA 19) is one of the recipients of the 2016 Heroes and Legends Scholarship Awards. Each year, four talented young people are awarded scholarship funds to attend one semester at an arts institution, in order for them to shape their careers in the performing arts.
Ting Zhang (Theater MFA 16) is the winner of the EX Prize in Spain for her project Far and Near, You and Me. The honor comes with a 2500 euro award.
Several CalArtians have been awarded Jim Henson Foundation grants for the creation and development of innovative works of puppet theater. School of Theater faculty Janie Geiser, Jason Barlaan (Theater MFA 14) and Hsuan-Kuang Hsieh (Theater MFA 15) have been awarded a workshop grant for the project Here/There. Faculty Mara Isaac's Falling Out, Leah Olbrich's (Theater MFA 13) and Paul Turbiak's (Theater MFA 08) Kaidan Project, and former faculty Susan Simpson's A Machine for Living have all been awarded production grants.