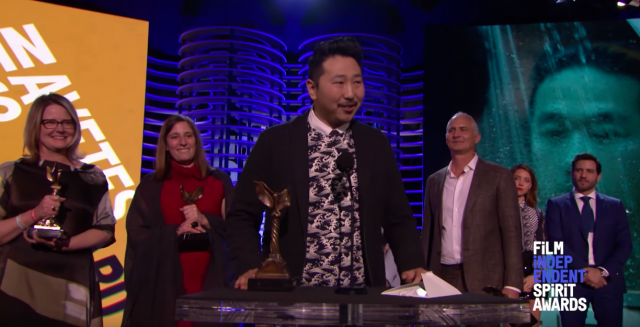 Above: Cassavetes Award-winner Andrew Ahn's acceptance speech.
Andrew Ahn's (Film/Video MFA 11) debut feature film, Spa Night, took home the coveted John Cassavetes Award at the 2017 Film Independent Spirit Awards on Saturday (Feb. 25). Traditionally held the day before the Academy Awards on the beach in Santa Monica, Calif., the Spirit Awards celebrate independent film and filmmakers. The Cassavetes is awarded annually to the best feature made for under $500,000.
Spa Night follows a young Korean American man who struggles with familial obligations and traditions while exploring his own burgeoning sexuality and personal identity while working at a Korean spa. The spa is a big part of Korean culture and in Los Angeles' Koreatown, it is a site for cruising.
"I had the idea [for the film] while I was at CalArts, and I worked with two other CalArtians as my producers, Ki Jin Kim (faculty and Film/Video MFA 10) and Giulia Caruso (Film/Video MFA 13)," Ahn said in a 24700 interview just before the ceremony. "After graduating, they really helped me pull it together, write the first draft of the screenplay and support that process creatively. I've just been plugging away at it, while I was working at CalArts, too." (Ahn is a former School of Film/Video Admissions counselor).
In a moving acceptance speech, Andrew told the A-list audience in attendance why he was moved by receiving the award and why small indie films like Spa Night matter.
This award is so meaningful in that it's going to a film about a Korean American immigrant family, about queer Korean American people. Now more than ever, it's so important that we support stories told by and about communities that are marginalized—that we tell stories about immigrants, about Muslims, women, people of color, trans and queer folk. Film is such a powerful tool in humanizing these communities so we that can't be pushed aside and labeled as 'other.' We are part of this great country—and we are undeniable.
Ahn's full Spirit Awards speech is posted above. And if you look closely, you'll see standing onstage and accepting the award with Ahn are his fellow CalArtians, Caruso and Kim.