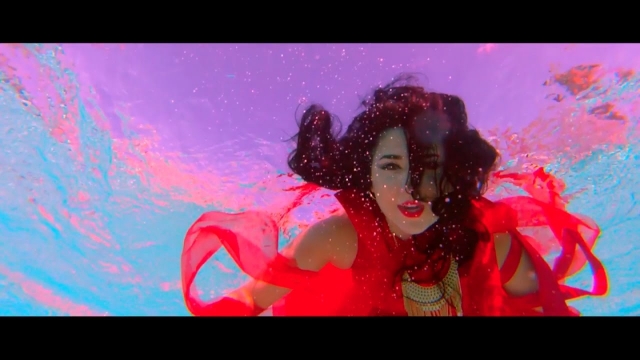 Above: Music video for Maryama's 'Where the Mermaids Are.'
Update (10/26): Maryama's music video for 'Where the Mermaids Are' has been nominated for a 2017 Music California Video Award in the Viewer's Choice category. Based on number of votes, fans can access the online poll through Nov. 1. Winners will be announced at the awards ceremony on Nov. 30, in San Francisco. Music California airs in Northern California on KRCB Public Television, a PBS Member Station. Their monthly programming includes music videos and interviews from California-based bands, artists, musicians and festivals.
---
Maryama Band, an outfit of CalArts musicians helmed by composer and performer Maryam Mirbagheri (Music BFA 16), is receiving widespread positive reviews for its newest single, "Where the Mermaids Are," which premiered as a music video on the cultural website, Popdose. Comparing Mirbagheri to the iconic songstresses of the '90s (Enya, Natalie Merchant, et al), Popdose notes that the artist, "crafts a sound that's overdue for a big comeback."
Released on Feb. 21, "Where the Mermaids Are" combines soul, jazz and pop into a beautiful, hypnotic, underwater fantasy. Huffington Post's review likens Mirbagheri's voice to Sade for being "exquisitely controlled" as well as "silky and sensuous."
Like the blending of form in the mythological creature of the mermaid, Maryama Band's sound reflects the singer's Iranian American roots. From early childhood, Mirbagheri was musically inspired and grew up studying guitar with Iranian rock stars Ardavan Anzabipour and Homayoun Majdzadeh. She moved to California to attend American River College where she studied with one of her biggest inspirations, Joe Gilman. An impressive list of Mirbagheri's accolades includes performances in prestigious international festivals such as Fajr International Music Festival and Monterey Jazz Festival, as well as receiving a Jazz Downbeat Award and 2016 nomination for a Hollywood Music in Media Award.
Maryama Band members include Mirbagheri on vocals, guitar and sehtar, Linnea Sablosky on vocals and cajon, Julian Karahalios (Music 15) on bass, Nick Hon on drums and Maleke Clemmons (Music BFA 18) on piano.
While fans await the highly anticipated full-album release, they can keep up with Maryama Band on social media for live concert updates and related news.