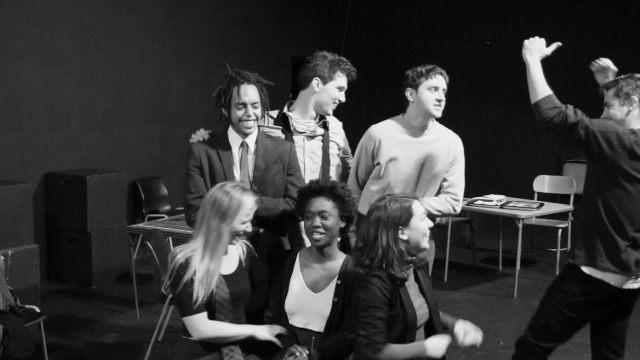 Above: Punk Rock at the Odyssey Theatre
Recent alumni Jacob B. Gibson (Theater BFA 14) and Raven Scott (Theater BFA 16) will perform in the play Punk Rock this Sat. March 25, at the Odyssey Theatre in West LA. Billed by Broadway World as "ferociously funny, complex and unnerving" Punk Rock is written by Tony Award-winning playwright Simon Stephens (The Curious Incident of the Dog in the Night-Time) and "peels back the layers of teen angst for a deeper look at what might make one of them snap."
The play is based on Stephen's personal experiences as a teacher and is inspired by the 1999 Columbine shooting. Set in an English prep school, seven teen protagonists navigate the social and academic pressures of high school, and their raw and often volatile emotions are mirrored in the punk rock soundtrack.
Director Lisa James says, "The play's pulsing, driving rhythm, like the music of the title, is what makes it so exciting. The characters are incredibly complex. Each one is hateful and cruel, but also loving and kind. Their hormones are raging, so they're out of control. It's a cacophony of emotion."
Punk Rock premiered at London's Royal Exchange in 2009, then transferred to the Lyric Hammersmith. The play opened off-Broadway in 2014 at the Lucille Lortel Theatre in an MCC Theater production that Ben Brantley of The New York Times called "tender, ferocious and frightening."
Punk Rock performances will run from March 25 through May 14.