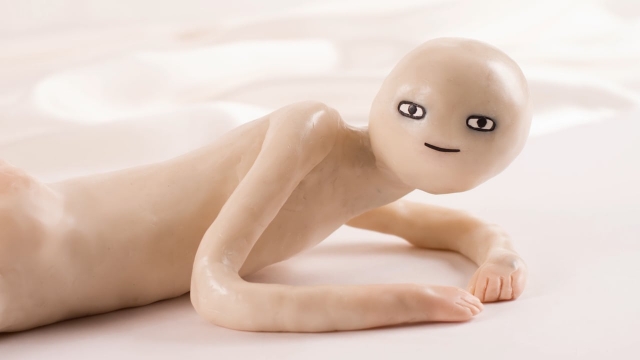 Above: 'Hi Stranger' by Kirsten Lepore
We recently featured alum and Experimental Animation faculty member Kirsten Lepore (Film/Video MFA 12) for her work with Lena Dunham on the animated video The History of 100 Years of Women's Health Care at Planned Parenthood. But within the last few weeks, one of Lepore's personal projects has reached viral status online, after she released the disconcerting, yet soothing stop-motion video simply titled, Hi Stranger.
The three-minute video originally appeared in the latest collection of work from indie animation collective Late Night Work Club, which released an anthology of short films based on the theme of "stranger." Lepore's contribution to the anthology has garnered roughly 1.6 million views on Vimeo, and introduces us to a genderless claymation figure reclining naked against a satin backdrop, whispering in a soft, husky voice that we're beautiful and worthy of love. The internet has some strong opinions about it, with the majority of viewers feeling simultaneously unnerved and calmed by the whispered sweet nothings and direct eye contact coming from Lepore's clay creation.
Digg's headline states, "Hi Stranger Is A Weird, Relaxing And Life-Affirming Video You Need To Watch Right This Second" and The AV Club says, "At times [when] it can seem that the internet has been tamed… Lepore's Hi Stranger is a welcome shot of please-just-watch-it grain-alcohol weirdness." But perhaps Tara McGinley of Dangerous Minds summed it up best: "The only true life situation I can compare this to is tripping on acid with your nude genderless best friend (who has skin like uncooked sausage) at the end of a yoga class."
According to the Telegraph, Lepore was inspired by a Post-It note doodle of the character drawn by Kent Osborne, head writer of Cartoon Network's Adventure Time. "I emailed Kent to be like 'Hey I have this whole idea for a film based on this Post-It note you gave me, is it cool if I adapt this character?'" Lepore recounted to the Telegraph. "And he was totally cool with it. So I changed the design a little bit and messed with it and sort of created a personality for this simple doodle that was just on a Post-It note."
From that original Post-It note sketch, her character has already spawned countless spin-off memes, including one by Stephen Colbert on the Late Show. This week, they debuted their own Trump themed version of Hi Stranger, saying of Lepore's video, "Some people have said it's the most disturbing cartoon they've ever seen. We here at The Late Show took that as a challenge."
Watch the parody video below:
Related: Late Night Work Club's Strangers Screening at Downtown Independent