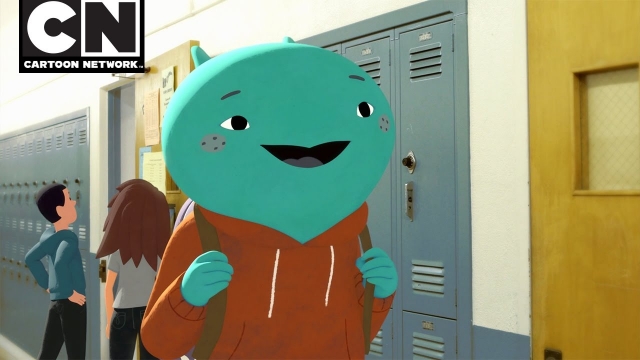 Above: Elizabeth Ito's 'Welcome to My Life.'
In 2004, alumna Elizabeth Ito (Film/Video BFA 04) made an animated short, Welcome to My Life, about a family of monsters trying to lead a normal American life. The black-and-white hand-drawn film, which won the Producers' Choice Award at Nicktoons Film Festival that same year, has been remade by Ito for Cartoon Network Studios' shorts program. Infused with a subtle documentary approach, Welcome to My Life (2017) is a longer and more sophisticated version of Ito's first iteration. Using CG, Ito and her team created a beautiful world that blends natural photographic images with animations.
The story follows Douglas, a.k.a. T-Kash, who navigates high school as a young monster in a predominately human world. In an interview with Animac Magazine, Ito says, "I would really like kids to feel like they relate to this character [Douglas] who is different but likable. I think that would be really awesome." As in the original version of the film, the characters are voiced by members of Ito's family, which contributes to the natural and relatable qualities of the film.
Last month (March 2017), Welcome to My Life won an NYICFF (New York Children's Film Festival) Audience Award for children (between 12 and 17 years old). NYICFF is the largest children's film festival in North America and a qualifying Academy Awards festival. Audience members of all ages can vote on the festival-winning films, and the winners are put forward for Oscar consideration.
Ito is currently the supervising director on Cartoon Network Studios'/Frederator Studios' Adventure Time, and has storyboarded several iconic Adventure Time episodes, including the first episode "Slumber Party Panic." Although there isn't any official word out yet, fans of Ito's work are hoping that Welcome to My Life will be made into a Cartoon Network series.