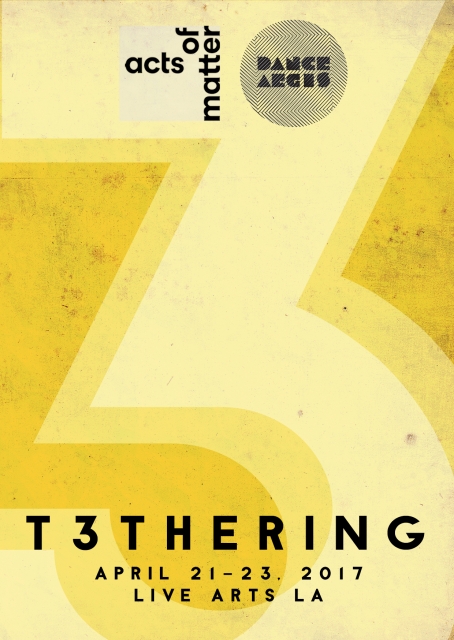 Rebecca Lemme (Dance MFA 13) and Andrea Gise (Dance MFA 14) are combining new works from their respective dance companies for the third edition of T3THERING, from April 21-23 at Live Arts Los Angeles. T3THERING, a celebration of dance, binds Lemme and Gise to one another in an artistic juxtaposition where each work informs the other, transcending the identity of the individual artists. The weekend features performances by special guests, LA Contemporary Dance Company and the Assembly, and opens with a repertory workshop and Q&A for dance artists, giving a behind-the-scenes look at the process for developing work.
In January, 24700 featured Lemme's new work Love Letter (from her company, Acts of Matter) as an in-progress performance at Highways Performance Space. Presented at T3THERING in its full form, Love Letter reinterprets the lyrics of love songs from the 1950s to the present, taking a deeper look at the way we experience love, and how we both conform and resist gender normativity through these expressions.
Lemme is also premiering Persist at the performance, which was choreographed for LA Contemporary Dance Company. Created in a tumultuous political landscape, the work is inspired by the effort and endurance required to persevere in the face of injustice.
Gise will present two pieces as well, with her own dance company, Dance Aegis, as well as with the Assembly. The first, Future Memory, expresses the unreliability of memory over time in its choreography. It moves forward while looking backwards, exploring the unanswerable question, "How will we remember our past in the future?"
Gise's second piece, HER, was originally created at CalArts and has now been restaged for The Assembly. Using Simone De Beauvoir's 1949 book The Second Sex as source material, Her confronts the same issues that are still playing out over half a century later.
More on HER:
The choreography unapologetically casts women as hunters, deceivers, and vindicators. "Unladylike" traits of rage, jealousy, and cruelty are explored through pack mentality in an effort to reveal a less seen side of the female psyche. As women, we are encouraged to pull one another down through criticism and competition, but at the closing of the work, the group finally understands the enormity of their collective power. This union of the female fighting spirit and the channeling of our raw anger as a gender is more relevant today than ever.