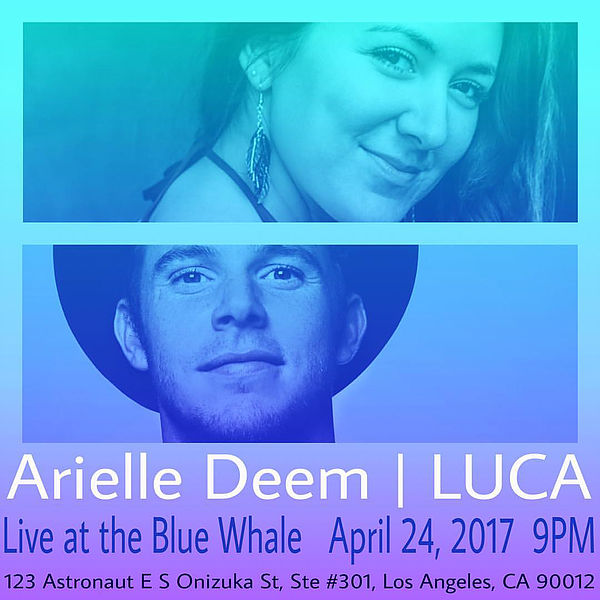 Vocalist and composer Arielle Deem (Music BFA 14) will perform at the jazz club bluewhale tonight (April 24) in Downtown LA's Little Tokyo neighborhood. She will share the stage with several other graduates from The Herb Alpert School of Music at CalArts, including Bobby Grigas (Music MFA 16) on vibraphone, Julian Karahalios (Music MFA 15) on bass, Joshua Linsky (Music MFA 15) on drums and percussion and Evan Montgomery (Music MFA 15) on guitar.
In addition to studying at CalArts, Deem is a graduate of Berklee College of Music. According to the press release for this week's performance, she blends "influences of jazz, soul, electronics and popular song form, [striving] to make a positive contribution to the world through independent and collaborative expression. Rhythmic lyrical phrases, pocket grooves and collective improvisation reflect Arielle's growing intention to create opportunities for connection, conversation and human awareness."
Since graduating from CalArts, Deem has been touring throughout the US and Canada, promoting her debut album No Place Like Now. Elevator Magazine said the LP was "a cohesive fusion of contemporary jazz and next-level songwriting" and was featured as one of BandCamp's "Top 100 Popular Music" albums.
Last year she traveled with International Connection's 2016 Golden Roots Tour, performing with the 10-piece hip hop/funk collective throughout California. This Spring, Deem will release her new album EVOLVING, a musical collaboration co-created with composer/musician, Joshua Linsky (Music MFA 15).
Deem's Monday performance is followed by a set by artist LUCA.