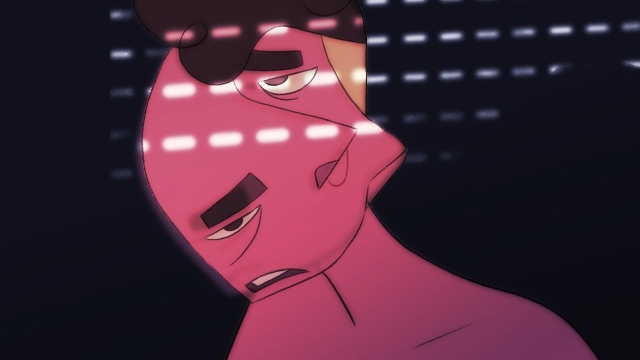 Above: Yonatan Tal's 'Mr. Carefree Butterfly.'
On May 3, students, faculty, friends, family and fans of CalArts' Character Animation Program gathered at the Director's Guild of America (DGA) in West Hollywood, Calif. for the 2017 Producers' Show. Twenty-one student films were screened at the annual event, where representatives from the animation industry's most respected companies watched the films and hobnobbed with the students in a reception afterwards.
CalArts President Steven D. Lavine addressed the full house in his opening remarks."I will be your president for 28 more days and I am so glad that this Producers' Show falls within those days."
Dean of the School of Film/Video Leighton Pierce presented Lavine with an award for "decades of creating conditions to make art possible." He then announced to the room that Director of the Character Animation Program Maija Burnett was recently named Variety Magazine's Animation Educator of the Year.
Above: Jackie Lee's 'Sewing Circle.'
Burnett, in her remarks, talked about animation as a learning process. "It challenges an animator's spirit and allows one to tell their story without compromise, and this is exactly what our students do." She then introduced the night's honored guests, saying,"The last time a female animator was our special guest was in 1995. So to make up for lost time, we've invited three female animators to share the stage."
Writer and director of Prep & Landing Stevie Wermers-Skelton (Film/Video 94), artist for Wreck-It Ralph and its upcoming sequel Ralph Breaks the Internet Josie Trinidad (Film/Video BFA 02) and writer for Inside Out and Gigantic Meg LeFauve took turns at the mic to deliver a speech about women in animation. "We're so proud of our strong female characters, but we still have a long way to go… We're here to see the new generation of animators." In parting, they said, "The road to a career in animation is long and winding, and there are traffic jams, but it's a road worth taking."
The guests of honor reflect changing gender demographics in CalArts' experimental and character animation programs over the past 20 years—in 1996, only 29% of the programs' students were female, but by spring 2016, 70% of the students were women. The animation industry at large does not reflect this statistic, as only 20% of creative roles are held by women.
Above: Xiya Lan's 'I think I love you.'
Three awards were presented to outstanding student animators: The Peer's Pick Award, the Vimeo Award and the Walter and Gracie Lantz Animation Prize, better known as the Woody Award.
Peer's Pick went to Jackie Lee (Film/Video BFA 17), whose Sewing Circle depicts a seamstress and a lamb who solve other creatures' problems with the power of a needle and a little thread. Lee thanked her peers in her speech, telling them that they are what makes CalArts special. "And keeping with the theme," she added, "It has been 13 years since a girl won the Peer's Pick award, which, given the demographic of the program, is kind of strange." Lee ended her speech, saying, "This is for all the women out there."
Xiya Lan (Film/Video BFA 17) was the winner of the Vimeo Award for the 2nd year in a row. This year's I think I love you is a kaleidoscopic take on relationships. "Thank you to Vimeo for this award, as it gives me confidence in my ability as I leave CalArts," she said in her speech.
Above: Sandeepan Chanda's 'Matsya.'
Yonatan Tal's (Film/Video BFA 17) Mr. Carefree Butterfly, a tale about refusing to grow up, was the recipient of the Woody Award. His films bookended the night's program, as on top of Mr. Carefree Butterfly opening the show, Overweight, his one-week animation film about leaving home, ended the screening.
Plot twists and turns was a running thread throughout the evening, with Josh Swallow's (Film/Video BFA 17) Please, Josue Geronimo's (Film/Video BFA 18) Fishbowl, Julian Sanchez' (Film/Video BFA 17) Winston & Pigbert and David Davis' (Film/Video BFA 17) Ghost Story taking the audience into unexpected places. Atmospheric films were aplenty, with Alex Avagimian's (Film/Video BFA 19) Steps, Zilai Feng's (Film/Video BFA 17) Remedy, Alex Ishida's (Film/Video BFA 20) Cycle, Sandeepan Chanda's (Film/Video BFA 17) Matsya, Erika Shing's (Film/Video BFA 20) Sketch and Hollywood Foreign Press Association scholar Aram Sarkisian's (Film/Video BFA 17) -WINSTON. The theme of family also emerged, such as in Michelle Lam's (Film/Video BFA 18) Endlessly, Delaney Januzzi's (Film/Video BFA 17) Family Spirit, Rhea Dadoo's (Film/Video BFA 18) Tiger Tiger, Li Wen Toh's (Film/Video BFA 18) Virtual Critters and Mariana Yovanovich's (Film/Video BFA 19) Talk to me.
Above: David Davis' 'Ghost Story.'
Watch all the films from this year's Character Animation Producers' Show.