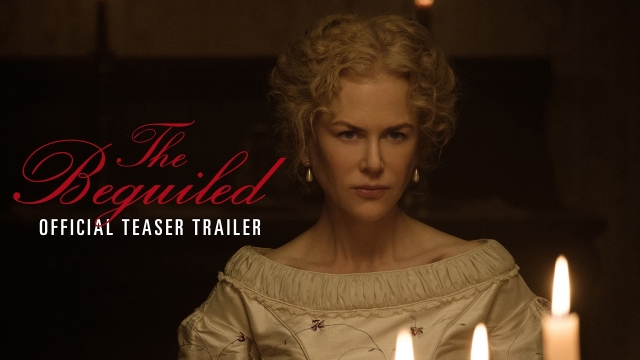 Above: Trailer for Sofia Coppola's 'The Beguiled.'
Academy Award-winning filmmaker and CalArts alumna Sofia Coppola (Art 94) has won Best Director at the recently concluded 2017 Cannes Film Festival held in France. Coppola, who garnered the award for the Southern gothic The Beguiled, is only the 2nd female filmmaker to win best director in the festival's 70-year history. The last female to win was Soviet filmmaker Yuliya Solntseva for 1961's The Chronicle of Flaming Years.
Based on the 1966 novel by Thomas P. Cullinan and previously adapted to a 1971 film starring Clint Eastwood, The Beguiled is a portrayal of power between men and women. Insulated from the violence of the Civil War, the students at Miss Martha Farnsworth Seminary for Young Ladies take lessons in music and French and say their prayers regularly. Their lives are disrupted when a wounded Union soldier is found in the nearby woods.
A review from IndieWire calls the film "the mustiest and most conventionally entertaining film of Coppola's brilliant career." More from the review:
But while the pace of The Beguiled might be new for Coppola, who's known for her languorous portraits of ennui and dislocation, the film's evocative flair for detail is par for the course. Here is a writer-director who always sees her characters as reflections of their hyper-specific environments, who is compelled by the rifts between women and the worlds they inhabit and insists on giving equal thought to both sides of that divide. This is Coppola's third period piece, and once again it finds her using the trappings of another time to better convey the timelessness of its longing and loneliness, flowing through history like the fluorescent chemical dye of a magnetic scan.
Coppola's The Beguiled also boasts a star-studded cast with Nicole Kidman as Martha Farnsworth, Kirsten Dunst as Edwina, Elle Fanning as Alicia and Colin Farrell as the Union soldier, John.
Watching the 1971 original made Coppola want to remake the film. "I just thought the premise was so interesting, because the story of power between men and women was such an interesting, loaded topic, and this premise really heightened it with this setting during the Civil War," She said in an article from The Los Angeles Times. "The women were raised to be these perfect feminine creatures there for men, and then all the men disappear."
In her prewritten acceptance speech, the filmmaker thanked Jane Campion for "being a role model and supporting women filmmakers." Campion remains the only female director to win the Palme d'Or, the festival's highest prize.