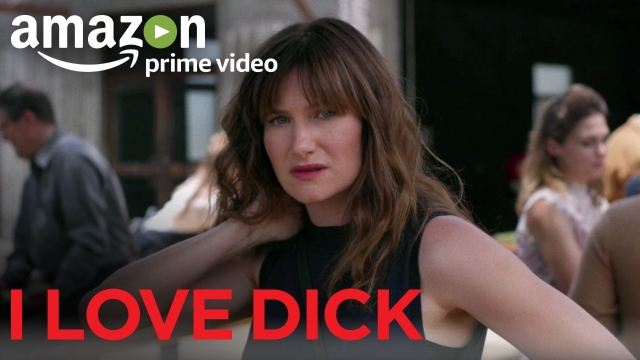 Above: Trailer for 'I Love Dick.'
Following the success of Amazon TV's Transparent, showrunner Jill Soloway created and directed I Love Dick, a new Amazon series based on Chris Kraus' seminal 1995 book of the same name. The show is notably written entirely by women and told from a female perspective.
I Love Dick stars Kathryn Hahn as Chris Kraus, a filmmaker who accompanies her husband, Sylvere (Griffin Dunne), a Holocaust scholar, to a fellowship in the art-infused town of Marfa, Texas. During her stay in Marfa, Kraus meets Dick (Kevin Bacon), a land art sculptor who in spite of his disinterest becomes the muse and catalyst for Kraus' personal and political awakening.
Throughout the series, excerpts from feminist films and video art flash on-screen—a homage to the female artists who paved the way for a character like Chris Kraus. CalArts alumna, Logan Kibens (Film/Video MFA 10), worked on-set as a consulting producer, curating the film clips that act as contradictions to Dick's statement in the pilot episode that "it's really pretty rare for a woman to make a good film because they have to work from behind their oppression, which makes for some bummer movies."
In an interview with Huffington Post, Kibens says, "I was responding to the scripts as they were coming in. It was like a really hard crossword puzzle. Every piece had to relate to one of the main characters and what she was going through, while keeping in mind the theme of the show. Taken together, the clips offer a short history of women in film."
Of the selection of works Kibens curated for I Love Dick, two come from CalArts alumna Naomi Uman (Film/Video MFA 98). The first clip is from her experimental film, Removed, and the second is from her short documentary film Leche, which focuses on the lives of a rural Mexican family. In Removed, Uman took film stock found in a CalArts projection booth and used nail polish remover to erase every female figure frame-by-frame. Both clips from Uman appear in Episode 5 of I Love Dick, and the entirety of Removed can be watched on YouTube.
Above: Naomi Uman's 'Removed.'
Kibens' contribution to the series is at the heart of I Love Dick's power to subvert the long-standing dismissal of emotions as an attribute of female weakness. In an article from Huffington Post, Priscilla Frank writes, "Like its source material, the show is a manifesto for female desire and creativity. Over the course of the show, Kraus finds her voice as an artist and a woman, her newfound, unabashed power of expression igniting the other creative women in her midst," says the same Huffington Post article.
Episode 1 of I Love Dick is available to stream for free on Amazon's website. The entire series is available for Amazon Prime members.