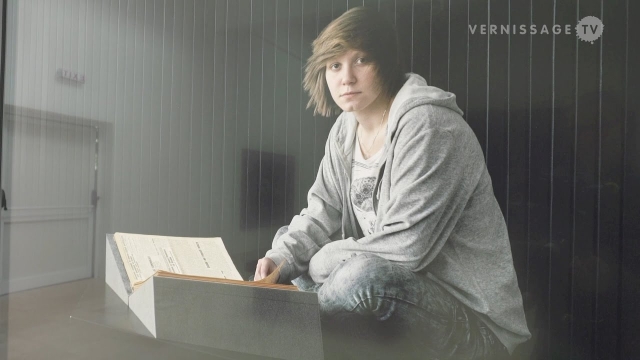 Above: Exhibition walkthrough of Sharon Lockhart's 'Little Review.'
School of Art faculty Sharon Lockhart is representing Poland at the prestigious 2017 Venice Biennale (La Biennale di Venezia) with the work Little Review. The title comes from the name of a youth-focused newspaper called Mały Przegląd (Little Review), which ran weekly from 1926 to 1939 as a supplement to the Polish daily newspaper Nasz Przeglad (Our Review) and covered politics, culture and sports. Little Review was started by the Jewish-Polish pediatrician Janusz Korczak, who died in 1942 in the Holocaust.
"I learned that he was a doctor, he ran an orphanage, he wrote fiction, he wrote nonfiction, he wrote a book called How to Love a Child. He was a radical thinker involved in children's rights before there were children's rights," Lockhart said in a phone interview with The Art Newspaper.
Lockhart honors Korczak by translating and publishing 29 issues of the newspaper with the help of 47 girls, ages 13 to 18, who currently live at the Youth Center for Socio-Therapy in Rudzienko, eastern Poland. Lockhart has been collaborating with and organizing workshops for the girls since 2009. They are the subject of her latest film, Rudzienko, which investigates how girls who have been labeled "difficult" or "unmanageable" express their thoughts and feelings. For Little Review, the girls are in the process of making their own publication, to be distributed at the close of the Biennale.
More from Artsy:
Lockhart, whose artwork has long engaged with working class communities, is particularly interested in giving young women a voice. She notes that she began work on the pavilion the day that Donald Trump was elected President of the United States, a reality that has put greater urgency behind women's issues—which are also currently generating heated dialogue in Poland.

During the course of her project, some of the girls have become poets, Lockhart said. One has a dream-log, for which she interviews people at the youth center about their dreams. Another has taken on the role of photographer for the group.
In addition to the reprints of the defunct newspaper, Lockhart also exhibits new photographs and premieres a new film.
Sharon Lockhart: Little Review is on view through Nov. 26 at the Giardini.
Related: Mark Bradford Represents US in 2017 Venice Biennale