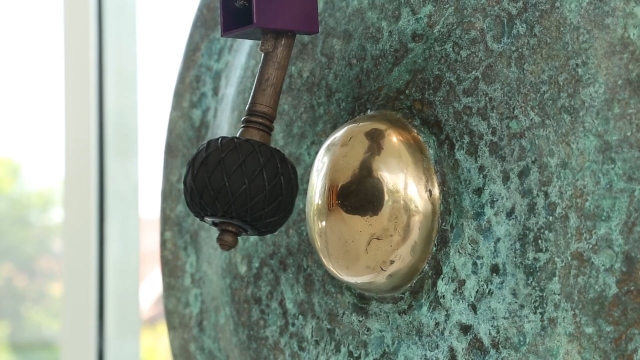 On Saturday (Aug. 12), I. Nyoman Wenten, faculty member of The Herb Alpert School of Music at CalArts and accomplished Balinese dancer and musician, performs with artist and composer Aaron Taylor Kuffner at the Hammer Museum in Westwood. Wenten will present Balinese-inspired dance movements for an improvisational Gamelatron sound piece by Kuffner. The 30-minute sets take place at 2 pm and 4 pm, and admission is free.
The Gamelatron is a handcrafted instrument that combines the traditional Indonesian Gamelan with robotic technology. The Gamelatron installed at the Hammer Museum is titled, Gamelatron Bunganya Dewa ("Flowers of the Gods" in Indonesian), and is made of five sculptural instruments that play daily site-responsive compositions written by Kuffner. The installation, which is intended to be a sanctuary-like space for visitors, opened June 3, and closes August 13.
Kuffner has built more than 40 Gamelatrons in varying forms, and produced works for a diverse range of venues such as the Smithsonian Institute, The Joshua Tree Music Festival and Burning Man.
Wenten, a celebrated musician and performer and longtime CalArts faculty member, has traveled the world giving lectures, teaching workshops, and performing. One of his recent collaborations includes rehearsing and performing for two weeks in Bali with the company Rhapsody in Taps and 25 members of the CalArts' Balinese gamelan Burat Wangi.
Event Details
Gamelatron Performances at the Hammer Museum
Saturday, August 12
2 pm and 4 pm
Hammer Museum
10899 Wilshire Blvd.
Los Angeles, CA
Tickets: Free