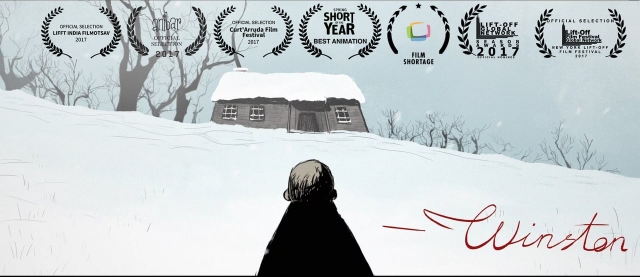 Established in 1972 by The Academy of Motion Picture Arts and Sciences, The Student Academy Awards recognizes and encourages promising new filmmakers at the collegiate level. U.S. films are judged in four categories: Animation, Documentary, Narrative and Alternative.
Among the seven Animation finalists announced by The Academy last week are CalArtians Mathieu Libman (Film/Video BFA 19) and Aram Sarkisian (Film/Video BFA 17).
Libman's animated short, Pinky Toe, tells the story of a character whose journey is set in motion by a phantom itch in his missing pinky toe. Stash Media commends Libman for "jumping confidently between animation techniques including stop-motion, UPA-influenced 2D, and golden age black and white." Earlier this year, Pinky Toe was featured as a Vimeo Staff Pick, and a Cartoon Brew Pick of the Day.
Winston, Sarkisian's Character Animation thesis film, is a hauntingly poetic short about a mad man living alone during a freezing cold winter. On his Tumblr, Sarkisian says he, "channelled some good old Edgar Allen Poe" during Winston's creation. His film was also selected as a Vimeo Staff Pick, and has earned more than 38,000 views.
The Student Academy Awards Ceremony, during which the winners in each category are announced, takes place on Oct. 12 in Beverly Hills, Calif. Past winners include Spike Lee, Trey Parker, Bob Saget, Cary Fukunaga and Patricia Riggin and Oscar winners Robert Zemeckis and CalArts alumnus John Lasseter (Film/Video BFA 79).
Watch Pinky Toe by Mathieu Libman below: