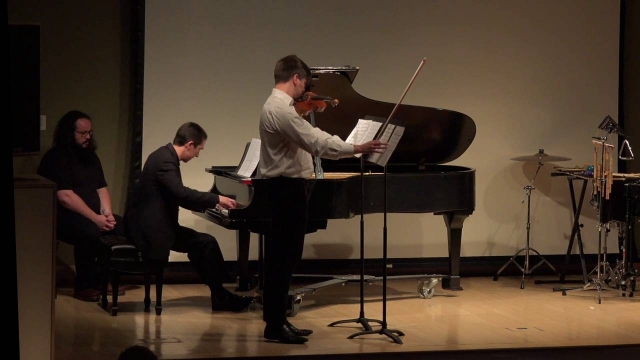 On Tuesday, Oct. 3, the Los Angeles-based ensemble Panic Duo, with Pasha Tseitlin on violin and Nick Gerpe on piano, are performing pieces by several composers, including Anne LeBaron, longtime faculty member of The Herb Alpert School of Music at CalArts.
Taking place in the Wild Beast on the CalArts campus, the program includes LeBaron's newly commissioned work Fissure (2017) as well as one of her earlier works, Devil in the Belfry (1993). Both compositions draw inspiration from stories by Edgar Allan Poe. Fissure refers to the story The Fall of the House of Usher, in which a structural crack, obsessed over by the story's unnamed narrator, ultimately causes the haunted house to collapse.
LeBaron composed Fissure during a 2016 artist residency at Yaddo, the neo-Gothic artist colony in Saratoga Springs, NY. She recorded and collected found sounds within the residency mansion. On LeBaron's website, she ties her work to a quote from The Fall of the House of Usher, "'Son Coeur est un luth suspend; Sitot qu'on le touché il résonne.' Translation: 'His heart is a well-tuned lute; should one touch it, it resounds.'"
Poe's allegorical story, Devil in the Belfry, informs LeBaron's musical piece with the same title. The story is set in the imaginary small town Vonervotteimittiss where being orderly and on time are the inhabitants' chief concern. Chaos erupts in the town when a devilish figure takes over the bell tower and rings 13 o'clock.
Panic Duo will also perform pieces by Reena Esmail, Juhi Bansal and Jennifer Higdon. From an email correspondence with Gerpe, he says that people unfamiliar with Panic Duo "can expect an exciting and high-energy performance full of contrasts and color—virtuosity and lyricism, traditional sounds and experimental/extended techniques, and often surprising juxtapositions of modernist, jazz or world-music inspired works."