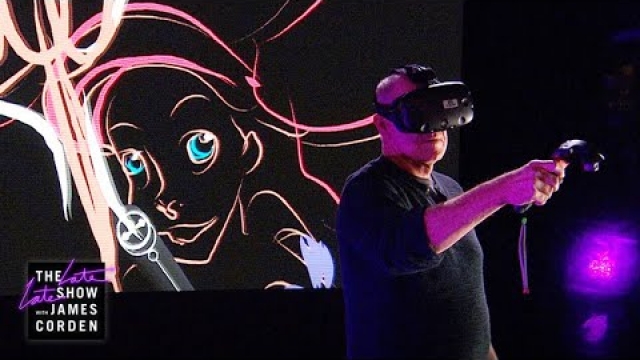 Animator and CalArts alum Glen Keane (Film/Video 74) made a guest appearance on The Late Late Show with James Corden on Tuesday night. Ostensibly, Keane was there with L.A. Lakers legend Kobe Bryant, to talk about their animated short film, Dear Basketball.
The film, directed by Keane, scored by John Williams and voiced by Bryant, is an animated telling of Bryant's poem of the same name. On Nov. 29, 2015, Bryant announced his retirement from basketball at the end of that season by writing a love poem to the game on The Players' Tribune. Earlier this week, the Academy of Motion Picture Arts and Sciences announced that Dear Basketball was one of the 10 animated shorts that made it to the voting process for the 90th Academy Awards.
Toward the end of the segment, however, Keane steals the spotlight. Corden asks which character was his favorite to create. Keane, who's portfolio includes Tarzan, Pocahontas, Beast, Aladdin, Rapunzel and many others, chose Ariel from The Little Mermaid (1989), noting, "I love characters that believe the impossible is possible. I mean, nobody represents that better than Ariel. She's a mermaid. She's got fins. She falls in love with a guy with legs. This isn't going to work—but it does."
He then takes to a darkened stage and proceeds to draw Ariel live for the audience. Donning a pair of virtual reality goggles, he creates Ariel live in 3D with Google's Tilt Brush while "Part of Your World" from the film plays in the studio.