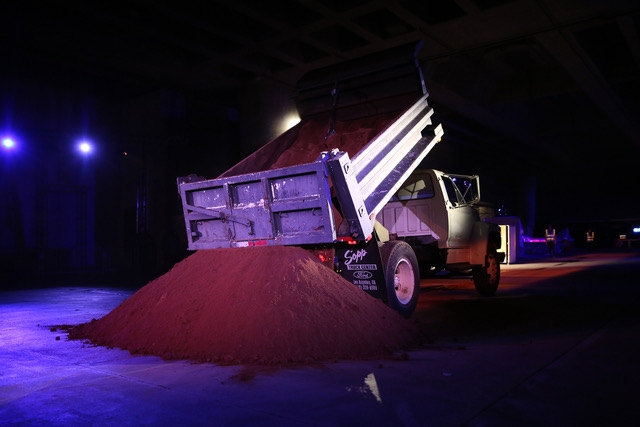 There are two performances left for Teatro Línea de Sombra's Durango 66, taking place at an outdoor location near REDCAT on Wednesday and Thursday (Jan. 17-18) this week. Presented as part of Pacific Standard Time Festival: Live Art LA/LA, REDCAT has built a theater under the Broad Museum-Grand Avenue specifically for Durango.
The Mexican performance collective uses construction vehicles, tons of soil and giant projection in its industrial installation/performance piece, which is performed in Spanish and English with English surtitles.
From REDCAT

Durango 66 (or Duran66o) draws connections between the student protest movement in Mexico in the 1960s and the recent massacres in Mexico attributed to crime syndicates and government collusion, including the mass murders discovered in Durango in 2011 and other recent atrocities. The piece resumes the action taken by a group of students in Durango almost fifty years ago, seeking to reflect on how the social risks involved in privatization and corporate overexploitation of natural resources were not perceptible at the time.
Because Teatro Línea de Sombra wanted to reach the youth and a wider audience with this political piece, in addition to working with 17 CalArts students in the production, the collective made their performances pay-what-you-can and all ages.
The Pacific Standard Time Festival: Live Art LA/LA, which features art and performance by more than 200 Latin American and Latino artists, continues through Jan. 21.
Event Details
Teatro Línea de Sombra: 'Durango 66' at REDCAT
Teatro Línea de Sombra: Durango 66 at REDCAT
Jan. 16-18, 8:30 pm
REDCAT
631 West 2nd St., Los Angeles
Tickets: Pay-what-you-can
Box office is at REDCAT. You will then be guided to performance site (approximately 800 feet distance).