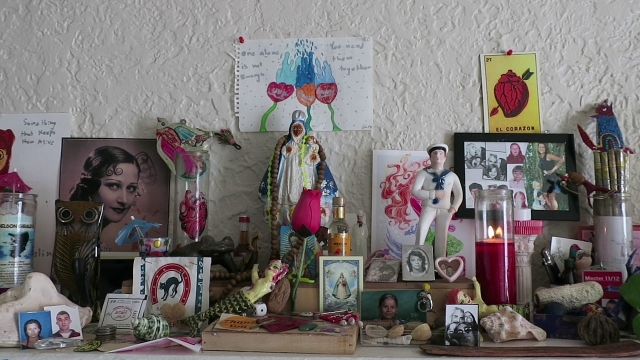 On Tuesday, UCLA's Hammer Museum announced the 32 artists participating in Made in L.A. 2018, the museum's fourth edition of its biennial exhibition, which runs June 3 to Sept. 2 at the Westwood museum.
The exhibition continues to highlight the practices of artists working throughout Los Angeles and the surrounding areas, primarily focusing on emerging artists. Six CalArts alumni have been selected for Made in L.A.: Beatriz Cortez (Art MFA 15), Lauren Halsey (Art BFA 12), Daniel Joseph Martinez (Art BFA 79), Naotaka Hiro (Film/Video MFA 00) and Rosha Yaghmai (Art MFA 07) alongside School of Film/Video faculty James Benning.
Several other artists included in the exhibition are either current or past visiting artists in the School of Art, among them: Carolina Caycedo, Neha Choksi, Candice Lin, Charles Long, Michael Queenland and Suné Woods.
While the exhibition is not overtly political, it is inevitably informed by the dramatic shifts in our country since the 2016 election and how they impact the contemporary landscape and culture of California. Made in L.A. 2018 presents a diverse group of artists who are deeply engaged with vital aspects of our culture today and believe in art's capacity to engage social discourse.
All artists in the exhibition are eligible to receive awards funded by philanthropists and art collectors Jarl and Pamela Mohn, including the Mohn Award ($100,000) and the Career Achievement Award ($25,000), which are selected by a professional jury. The Public Recognition Award ($25,000) is determined through a public vote during the biennial's run.
Organized by Hammer curators Anne Ellegood and Erin Christovale, the biennial will be accompanied a full roster of free public programming and a comprehensive catalog, which will include a short essay by writer and CalArts Critical Studies faculty Tisa Bryant.