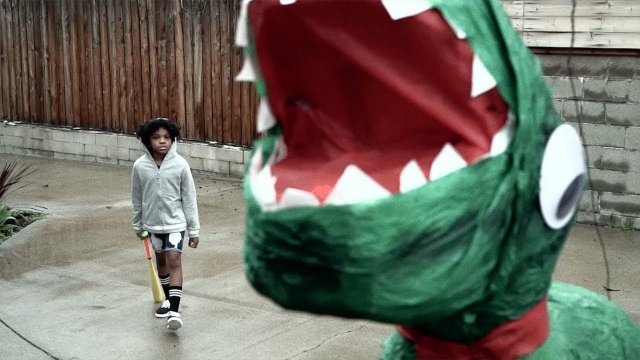 Dropping just in time for International Women's Day today (March 8) is the self-produced music video for the song, "Smells Like a Girl," by Lisa Frankly—a new duo of CalArtians Emma Zakes Green (Theater MFA 13) and Paul Fraser (Music MFA 11). Lisa Frankly's mission is simple: They write (and play) feminist punk for young listeners.
Zakes Green and Fraser wrote this song in 2016 and shot the video last year. For the video shoot, the duo went the DIY route, with Fraser executive producing and sound designing and Zakes Green directing. They hired young actor Taylor Gadsden and collaborated with a number of CalArtians for the shoot.
Video credits
Actor: Taylor Gadsden
Director: Emma Zakes Green (Theater MFA 13)
Executive Producer: Paul Fraser (Music MFA 11)
Producer/First Assistant Dirctor: Sienna Beckman
Director of Photography: Iliya Gegov
Production Design: Aubree Lynn (Theater MFA 16)
Costume Design: Amanda Lee (Theater MFA 12)
Hair/Make-up: Amanda Walsh-Cole
Editor: Kevin Palmer & Iliya Gegov
Title Animation: Meejin Hong (Film/Video MFA 12)
First Assistant Camera: Alexander Demers (Theater MFA 14)
Sound Design: Paul Fraser (Music MFA 11)
Happy International Women's Day!