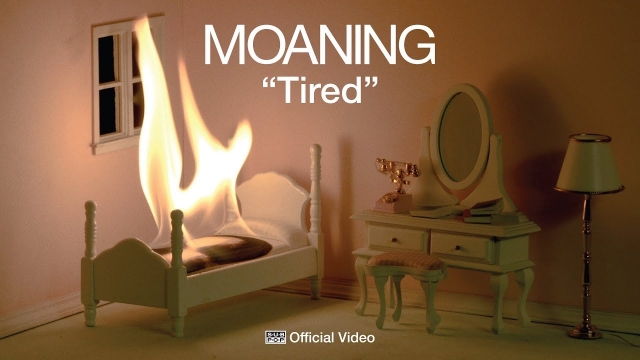 L.A.'s drony-punk trio Moaning, featuring CalArts alums Sean Solomon (Film/Video 12) on guitar and vocals, Pascal Stevenson (Music BFA 14) on bass and synth, with Andrew MacKelvie on drums, was recently signed to Sub Pop records.
For Moaning's latest music video for the single "Tired," the band collaborated with several CalArtians. The surrealistic music video from the trio's upcoming self-titled debut was directed by Ambar Navarro (Film/Video BFA 15) and edited by Tempe Hale (Film/Video MFA 14) with production assistance from Eben Zboch (Film/Video BFA 15).
From Sub Pop:
"Behind closed doors, we experience a series of strange stories: A house catches fire, a giant hamster takes a bath, and a series of objects spontaneously combust. The "Tired" video plays with analog special effects, creating dream-like environments and scenarios," says director Ambar Navarro (Stef Chura, Anna Burch). "Tired" co-stars the band alongside Casper the Hamster, Mr.Maggie the Cat, and 2 lucky goldfish, and was shot at Titmouse Studios in Los Angeles.
The band plays an album release party on Friday (March 9) at The Echo in Los Angeles, which also launches Moaning's extensive tour of more than 40 shows throughout the U.S. and Europe through June. Also on the bill are openers Froth and Numb.er.
—by Oscar Burrows-Rangel
Event Details
Moaning
Mar. 9, 8:30 pm
The Echo
1822 W Sunset Blvd, Los Angeles, California 90026
$12 – $15
16+