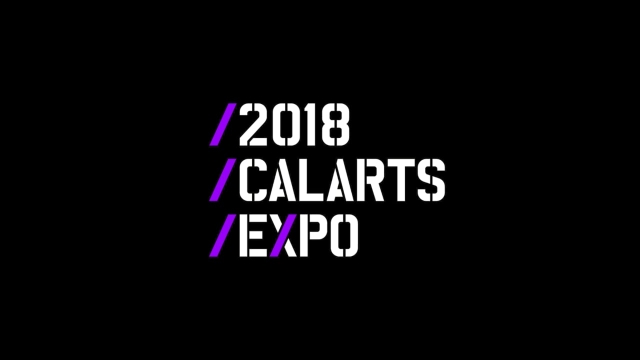 CalArts Expo has become one of the Institute's most engaging and impressive events. This year's extravaganza, which happened on-campus May 3, featured over 400 technology-driven art projects and performances created by students and faculty from all disciplines across the Institute.
For the first time, the expo presented a number of awards to visionary and innovative projects through partnerships with Ableton, Touch Designer, Output, Kadenze, Novation, Focusrite, the Santa Clarita Valley Business Journal, and the Santa Clarita Valley Economic Development Corporation.
Here is the list of winning projects:
Santa Clarita Valley Technology Awards in the category of "Excellence in Digital Arts:"
"Uncapturable" by Changting Lu (Theater MFA 19)
"Visual Transmodulator" by Chloe Scallion (Music BFA 19)
"Vibrating Electric" by Dylan Freeman (Music BFA 17)
"Fraught Towers Pushing Down Monochords" by Eric Heep (Music MFA 16)
"Lavender" by Luka Fisher (Art MFA 18)
"Islands / Seom" by Shih-Lien Eugene Yen (Theater MFA 18)
"FEATHER" by Josh "Fritz" Friedensohn (Theater MFA 16) , Zachary "Pony" Golden (Theater MFA 17), R.S. Buck (Theater MFA 18), Kamyi Lee (Theater MFA 18), Josephine Wang (Theater BFA 18), Shay Willard (Theater BFA 19), Chris Jungwoo Kim (Theater MFA 18), Travis Moelter (Theater MFA 19) and Ritika Ramesh (Theater MFA 19).
Kadenze STEAM Awards:
"Wave" by Monique Goeders (Theater MFA 18) with Kevin Brown (Theater MFA 18)
"The Peach Blossom Land" by Kam Ying Lee (Theater MFA 19) with Monique Goeders and Bo Li (Theater MFA 20)
Focusrite Novation Music Technology Award:
"Infinity Glove" by Olivia Hauser (Music MFA 19) with Carmina Escobar (Music MFA 10)
"Magnetic Sequencer" by Benjamin Tillotson (Music MFA 19)
Touch Designer Award:
"Sansa" by McLean Macionis (Music MFA 19)
"." by Quasar Wei (Film/Video MFA 18)
Check out the 1-minute video above for more highlights from CalArts Expo 2018.