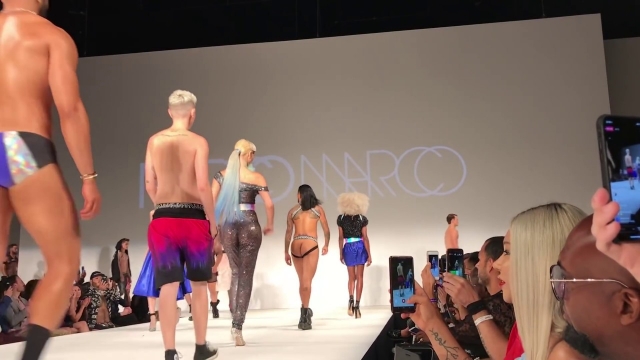 Last Saturday (Sept. 8), costume designer Marco Morante (Theater BFA 02) of the Los Angeles-based label Marco Marco made New York Fashion Week history. The creative visionary behind costumes for pop stars like Katy Perry, Britney Spears and Nicki Minaj, unveiled his brand Marco Marco's newest underwear line, Collection 7, with all-transgender models.
In an interview with Mic Magazine, Morante said:
Although I have always had trans and nonbinary people in my shows, it became apparent to me that their presence was often overshadowed by cis gay men or cis gay men in drag. I wanted to create a space to celebrate trans bodies. This was an opportunity for their presence to be undeniable and reinforce that trans is beautiful.
The runway show featured 34 models including Carmen Carrera, a former star on RuPaul's Drag Race, Pose stars Dominique Jackson and Angelica Ross, Transparent actress Trace Lysette, and Gigi Gorgeous, "YouTuber" and social media influencer.
A year after graduating from CalArts, Morante opened his Hollywood design studio and showroom. From playful to glamorous, his one-of-a-kind designs can be seen on the red carpet, worldwide tours, television and in music videos.
Check out behind-the-scenes photos taken by Andrew Werner for OUT magazine: 109 Candid Photos From Marco Marco's Show With All Transgender Models.
View this post on Instagram