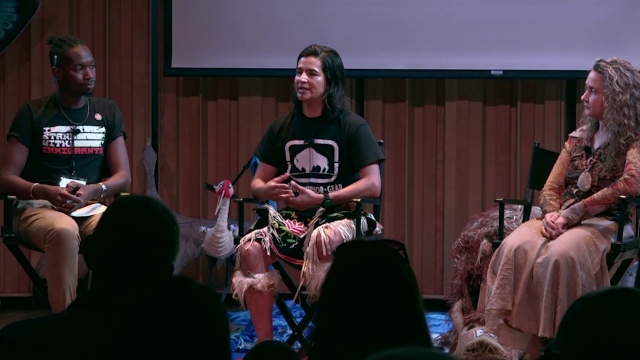 For the countdown to CalArts Weekend, which starts this Friday (Oct. 12), here's a third highlight video from last year's featured forum, Roots and Wings, with writer, artist and educator Ty Defoe (Theater BFA 10) and puppet artist Heather Beth Henson (Theater 00).
To begin the forum, Defoe and Henson performed a traditional welcome ceremony and ritual from the Oneida and Ojibwe nations, of which Defoe is a member. Afterwards, Nijeul X. Porter (Theater MFA 15) sat down with the artists to talk about decolonization and identity.
One of the important elements of Defoe's practice is performing traditional hoop dancing, which represents the interconnectedness of life. During the talk, he explains how he uses the dance as a form of prayer and as an expression of affirmation and empowerment for two-spirits, which is a native form of being transgender.
Defoe is based in New York City, where he recently starred in the play Straight White Men, written by Obie Award-winning playwright Young Jean Lee. In 2017, he was a recipient of the Jonathan Larson Grant for emerging musical theater writers. His plays have been workshopped and performed at the Yale Institute for Music Theatre, ASCAP Musical Theatre Workshop, Native Voices at the Autry and the Institute for American Indian Arts in Santa Fe, New Mexico. In 2009, he won a Grammy Award for Best Native American Music Album for Come to Me Great Mystery: Native American Healing Songs.
Henson is the daughter and youngest of the five children of Jim and Jane Henson. She is the owner of IBEX Puppetry, an entertainment company dedicated to promoting the art of puppetry in all of its various mediums, including stage, cinema and gallery exhibitions. IBEX projects include Handmade Puppet Dreams, The Orlando Puppet Festival, The Puppet Slam Network and environmental spectacles including, "Panther and Crane," a drama about preserving the Florida ecosystem in modern times.
Check out CalArts YouTube channel to watch the full-length forum.
Tickets are still on sale for CalArts Weekend 2018 and can be found on the event site. This year's forums feature animator Glen Keane (Film/Video BFA 74); the Speakeasy Society, an immersive entertainment company; and the team behind Try/Step/Trip, a spoken word/step dance musical in development through CalArts Center for New Performance.