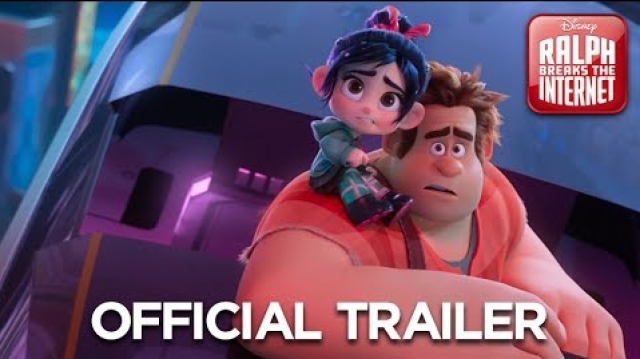 Walt Disney Animation Studios' Ralph Breaks the Internet, the sequel to the critical and commercially successful Wreck-It Ralph (2012), comes out next week (Nov. 21) on the day before Thanksgiving. The highly anticipated follow-up film is co-directed by CalArts alum Rich Moore (Film/Video BFA 87) and Phil Johnston, with John Lasseter (Film/Video BFA 79) as one of its executive producers, and Josie Trinidad (Film/Video BFA 02) as head of story.
While the first film is filled with nostalgic references to retro video games, Ralph Breaks the Internet explores the current vastness of the Internet. Taking place six years after the events of the first film, the main characters Ralph and Vanellope decide to venture out into the virtual web via the arcade's wi-fi router in search of a replacement steering-wheel part for Vanellope's recently broken arcade game. Along the way, Ralph and Vanellope meet friends, foes and the entire suite of Disney princesses.
Focusing on the lessons Ralph and Vanellope learn about friendship, the film also touches on the serious side of the Internet such as the dangers of the dark web. Much like Zootopia (2016), which is another Moore film, Ralph Breaks the Internet doesn't shy away from social issues.
In an interview with the blog Slash Film, Moore said:
We couldn't make a movie about the Internet and make it out to be all rays of sunshine. We approached it in the way that we approached racism in Zootopia. It would have been bad to have Judy Hopps solve racism, that's just not how the world works. But she can experience it, and she can practice it, and she can learn from it, and she can rise above it. That was our goal with this movie, that Ralph can encounter these things and embody them, fall prey to them, but ultimately not to solve it because I think that would be disingenuous of us. And the last thing we want to do is lecture the audience or preach to them, but we can show a character who encounters what we encounter on the internet and see how he goes about rising above.
Oscar-nominee John C. Reilly reprises his role as Wreck-It Ralph, along with other returning actors Sarah Silverman, Jack McBrayer, Jane Lynch and Ed O-Neill. New additions to the cast include Gal Gadot, Taraji P. Henson, Ali Wong and Alfred Molina.
So far, early reactions to Ralph Breaks the Internet have been positive:
Ralph Breaks The Internet is better than the original in every way. Huge laughs and plenty of heart. The princess sequence will more than likely become one of the most memorable scenes of 2018. Be sure to stay through the credits for even more laughs. #RalphBreaksTheInternet pic.twitter.com/9K6PA4bYH3

— Scott Menzel (@TheOtherScottM) November 3, 2018
Ralph Breaks The Internet is great. Super funny, creative, and charming, with the same kind of character-based emotional core that made the first one so special. It's a really fun follow-up – very happy. pic.twitter.com/pHhRUECU7c

— Eric Eisenberg (@eeisenberg) November 3, 2018
Related Reading: Wreck-It Ralph Director Rich Moore on his Film Sensibility: 'It's a CalArts Thing'