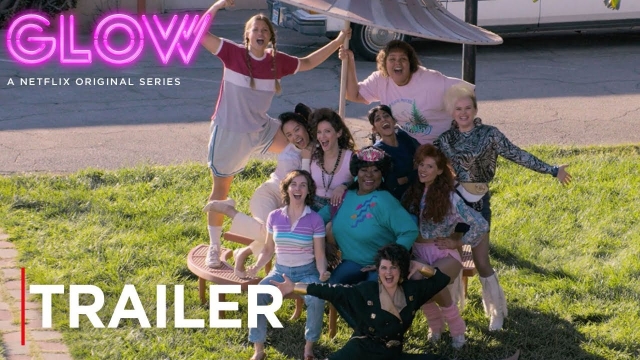 Earlier today (Dec. 6), the Hollywood Foreign Press Association announced its nominations for the Golden Globe Awards, recognizing excellence in domestic and foreign film and television.
For the second year in a row, CalArts School of Theater alumna Alison Brie (BFA 05) is nominated for Best Performance by an Actress in a Television Series – Musical or Comedy for her role in the Netflix series GLOW.
The series is inspired by the true story of a popular 80s female wrestling league, Gorgeous Ladies of Wrestling (G.L.O.W.) that toured with live shows and had a self-titled show that ran until the 90s. Brie plays the fictionalized Ruth, an out-of-work actress whose last attempt to find fame leads her into the glitter and spandex world of female wrestling.
In an interview with The A.V. Club Brie talks about why she was attracted to Ruth's character:
I was drawn to the complexity of this character and the tone of the show overall. I like that she is a shapeshifter. At some moments she's totally sexless and determined, and then other moments she's doing this outrageous, horrible thing to her friend. I like the idea that we're not quite sure if she's a good person, though I think that ultimately she is. I like that other people don't like her, that she's sort of unlikable in a lot of ways, even though she is trying her hardest, in earnest, most of the time.
In August, Netflix announced GLOW will be renewed for a third season.
Among the Golden Globe Best Animated Feature nominees are three films directed by CalArtians: Brad Bird's (Film/Video BFA 76) Incredibles 2; Rich Moore's (Film/Video 87) Ralph Breaks the Internet; and Spider-man: Into the Spider-Verse directed by Bob Persichetti (Film/Video BFA 96), Peter Ramsey, and Rodney Rothman. Earlier this week, all three films also received multiple nominations for this year's Annie Awards, which honors achievement in the animation arts and is often a predictor for who will win the Oscars.
The animated features are also major box office hits with Incredibles 2 surpassing the $600 million dollar mark and ranking as the third-highest grossing film of 2018. Ralph Breaks the Internet, which came out recently during Thanksgiving weekend, has kept its number one slot on the box office charts for three consecutive weeks. Columbia Pictures' and Sony Picture Animations' Spider-man has grossed over $275 million worldwide.
The Golden Globes will be held and broadcast live on Sunday, Jan. 6, 2017 on NBC.