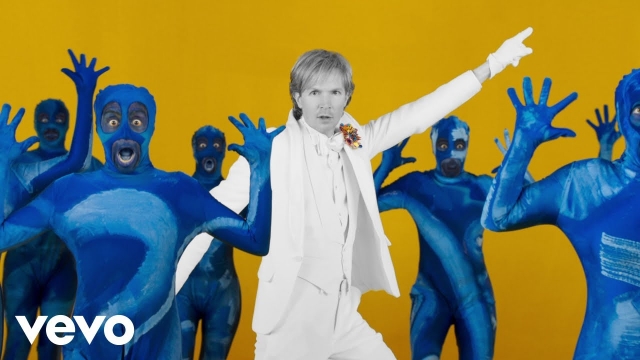 The 61st Annual Grammy Award nominations were announced this morning (Dec. 7). While the list of nominees is extensive, we've already spotted several CalArtians among the nominees who are being recognized for their contributions to the music industry.
CalArts alum Greg Kurstin, one of today's most sought-after music producers, is among the team nominated for Best Engineered Album, Non Classical for Beck's album Colors. (Side note: check out the music video above featuring a last-minute cameo appearance by CalArts alum and Golden Globe nominee Alison Brie [Theater BFA 05]). 
This marks Kurstin's 13th nomination. He's already won five Grammys, including last year's win for Producer of the Year, Non Classical.
Kurstin, who was once the touring keyboardist for Beck's 2002 Sea Change tour, reunited with Beck to produce Colors, his 13th studio album, which they recorded in Kurstin's Los Angeles studio between 2013-2017. On the 10-track album, Beck and Kurstin played nearly every instrument themselves.
In an interview with Entertainment Weekly Kurstin talks about the making of Colors, saying, "'I would jam in the room and try to inspire Beck. We really love songs with some complex changes, and Beck has a history of these songs with really cool twists and turns.'"
Beck spoke with iHeartRadio about his collaboration with Kurstin, saying:
This was probably the first record where I really collaborated on the songwriting, completely. So it felt like we were in that old sense of the songwriting team, in the classic sense. We really got to just go through the history of music, and what we love, and experiment, and come up with these songs over a long period of time. It's a bit of a luxury, and I learned a lot. It was very much an incredible time making this record.
For those in Los Angeles, Kurstin and Irana George, who perform together in the retro-pop band The Bird and the Bee, are playing in the show, Inara George presents Eleni Mandell's "Song Club (Holiday Edition)" on Tuesday (Dec. 11) at Largo at the Coronet.
Six time Grammy nominated jazz performer, composer and producer John Daversa (Music MFA 06) is nominated for three Grammy Awards this year, including Best Improvised Jazz Solo for Don't Fence Me In; Best Large Jazz Ensemble Album for American Dreamers: Voices of Hope, Music of Freedom; and Best Arrangement, Instrumental or A Cappella for Stars and Stripes Forever.
The politically conscious album American Dreamers by John Daversa's Big Band features music by 53 DACA registered individuals (also known as "Dreamers") from 17 U.S. States and 17 countries. The project got started by entertainment attorney and philanthropist Doug Davis and was sponsored by Troy Carter, former global head of creative services at Spotify. According to Variety, a documentary about the making of the album is in the works.
Daversa talks about the importance of American Dreamers being a Jazz album, saying in Variety:
Jazz exists as the soundtrack of the downtrodden and persecuted and has been at the forefront of social justice. Jazz lends itself to interpretative performances. Jazz allows the dreamers to be artists. I hope that people listening to this album understand that dreamers are patriotic Americans — just like we are. I hope the patriotism comes through and what, whatever a person's preconceived notions were, that we can change them through music and shed a light on this [issue] in a way that people hadn't looked at before.
Here's a look at 'Immigrant Song,' one of the track's on American Dreamers, below:
Marking his fourth Grammy nomination, Scott Colley (Music BFA 88) is in this year's running for Best Jazz Instrumental Album for Still Dreaming. The album is a compilation of eight tracks presented by saxophonist and composer Joshua Redman and his quartet, which includes Colley on bass, Ron Miles on cornet and Brian Blade on drums. All About Jazz calls it "full of energetic improvisation with a cohesion of elastic risk and reason."
The album is a tribute to Old and New Dreams, a 1976–1987 band created by Redman's father, Dewey, that featured an all-star line up of Charlie Haden (founder of the Jazz Studies Program in The Herb Alpert School of Music), Ornette Coleman, Don Cherry and Ed Blackwell.
From the record label's blog, Nonesuch Journal,
As Redman told NPR's Jazz Night in America: 'I envisioned this band with myself and Ron Miles and Scott Colley and Brian Blade … Each of us has a kind of special relationship to the corresponding instrumentalist in Old and New Dreams.' Blade, like Blackwell, is from Louisiana; Colley was a student of Haden's; and Miles has long been influenced by Cherry's playing.
Still Dreaming features six original compositions and two other tracks: 'Playing' by Haden and 'Comme Il Faut' by Coleman.
Nominated for Best New Age Album, Opium Moon is a new project by critically acclaimed artist Lili Haydn (violin/voice), Hamid Saeidi (Santoor), CalArts alum and percussionist M.B. Gordy (Music MFA 80) and Itai Disraeli (fretless bass).
An acclaimed drummer Gordy has played on albums for artists such as John Legend, Beck, One Republic, The Doobie Brothers to name a few. He also regularly contributes to film and TV scores with credits on Selma, Frozen, Harry Potter, Mad Men, Battlestar Galactica, Agents of Shield, The Mentalist and many others.
A step away from his more commercial gigs, Opium Moon has been described by World Music Central as both "sultry and meditative," and praised for "delving deep into a sound that draws on trance and sacred musical traditions of both East and West."
The official video for their song "Caravan" premiered on NPR (see video below). In the article, Haydn reveals:
The name Opium Moon, as well as the organic improvisational way we create, was inspired by a poem of the great Sufi poet Hafiz called 'She Responded:'

The bird's favorite songs
You do not hear,

For their most flamboyant music takes place
When their wings are stretched
Above the trees

And they are smoking the opium of pure freedom…
I once asked a bird,
'How is it that you fly in this gravity
Of darkness?'

She responded,
'Love lifts Me'
CalArts Graphic Design alum Glen Nakasako (Art BFA 96) received a Grammy nomination for Best Boxed or Special Limited Edition Package for The Decemberists I'll Be Your Girl box set. In 2015, Nakasako was nominated in the same category for The Decemberists' album What A Terrible World, What A Beautiful World deluxe box set.
Nakasako is an art director and designer for the award-winning boutique design firm, Smog Design, which specializes in book design and album covers. One of their recent projects include art direction and design for Pink's newest album Beautiful Trauma, which has, in another cool CalArts connection, two songs co-written and produced by Kurstin. 
Check out a CalArts poster designed by Nakasako in 1996 that's been preserved and digitized through CalArts Poster Archive below:


Congratulations to all the nominees. If we missed any other alums, please let us know in the comments.
The 61st Annual Grammy Awards take place on February 10, 2019 at the Staples Center in Los Angeles and will be broadcast live on CBS.