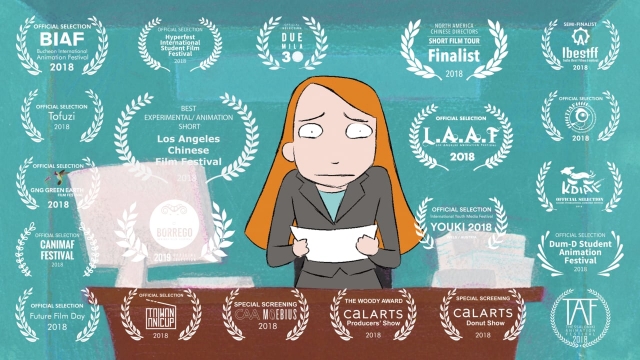 The 20th annual Animation Show of Shows is currently on tour, opening in theaters in Los Angeles and New York this month. The animation showcase brings together 15 of the best thought-provoking and/or funny animated shorts, representing six different countries. Three of the films selected for the 20th anniversary mini-festival are directed by CalArtians.
The films explore personal relationships, coming-of-age stories, family and satire, showing the diversity of narrative. Ron Diamond, founder and curator of the Show of Shows, aims to illuminate "human strengths and foibles, and the bonds that unite us across cultures and generations."
Included in the lineup are Barry directed by Anchi Shen (Film/Video BFA 19) and Polaris directed by Hikari Toriumi (Film/Video BFA 18). Barry follows the quest of an anthropomorphic goat becoming a doctor while Polaris shows a young polar bear leaving home for the first time.
Last May, both films screened at the 2018 CalArts' Character Animation Producers' Show at the Directors Guild of America (DGA). Barry won the Walter and Gracie Lantz Animation Prize, selected by the CalArts Character Animation Program faculty.
Also screening is My Moon directed by Eusong Lee (Film/Video BFA 13). The film depicts a celestial love triangle — a romance between the Earth, Moon and Sun.
The US theatrical premiere of the Animation Show of Shows opens at Laemmle Theaters in Santa Monica on Dec. 13, in Los Angeles on Dec. 14 and Quad Cinema in New York on Dec. 28.
—Brigitte Ugarte