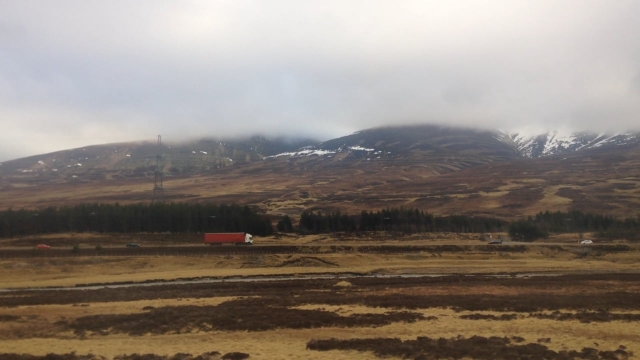 Last month, Glasgow-based artist Charlotte Prodger won the prestigious Turner Prize, an annual award presented to a British visual artist.
Organized by the Tate gallery, Prodger—one of four artists shortlisted for the prize—won for her video works, including the film, "Bridgit," 2016 (33 min). Shot entirely on her iPhone, the film focuses on the queer experience, more specifically, the artist's personal process of coming out as gay in rural Scotland.
In his review of the Turner's shortlist exhibition, The Guardian's Adrian Searle writes about Prodger's camera recording images in both movement and stasis, and combining them with layers of the past:
All this is accompanied by 10 excerpts from Prodger's journals, in which she talks about coming out, working in a care home, and the experience of going under anaesthetic. These are snatches from a rich and complex work that also draws in standing stones, the names of ancient deities, the names that persist and those we give ourselves, and what happens when we lose ourselves in nature or under an anaesthetic. Literary, lyrical and confessional, Bridgit is both a personal work and an attempt to analyse one's place in the world. I don't mind who wins this year's prize, but Prodger, who will represent Scotland at the next Venice Biennale, is my favourite.
While earning her MFA in 2009 from The Glasgow School of Art, Prodger studied for a semester at CalArts as part of an exchange program between the two schools.
Tom Lawson, dean of CalArts' School of Art, noted that Prodger is the third artist who has participated in the Glasgow exchange to win the Turner. The other Glasgow graduates are Richard Wright, who won the prize in 2009 for site-specific painting, studied at CalArts in 1994; and Martin Boyce, who studied at CalArts in 1996, won the prize in 2011 for sculptural installation.
"It has been a long and very productive relationship between the two schools," Lawson writes in an email.
First established in 1984. the Turner prize jury awards £25,000 to the winner, with £5,000 going to each of the shortlisted artists. This year's four finalists, who also included Luke Willis Thompson, Naeem Mohaiemen and the collective Forensic Architecture, all presented video, film and/or digital work in the accompanying exhibition at the Tate, which is on view through Sunday (Jan. 6).
Event Details
Turner Prize 2018
On view through Jan. 6
Tate Britain
Millbank
London SW1P 4RG