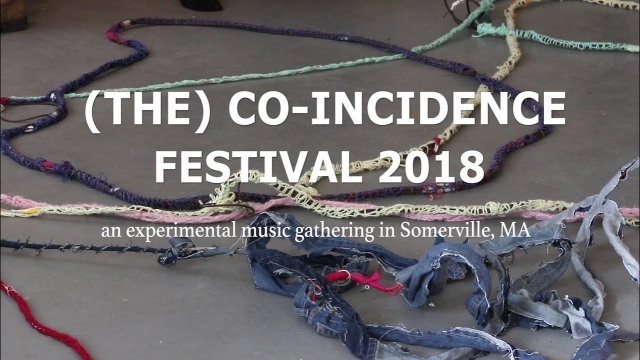 On Friday, Jan. 11, Boston-area CalArts alumni will kick-off the third annual Co-Incidence Festival, a 10-day gathering of experimental music composers and performers, at Washington Street Art Center in Somerville, Mass.
Seeking to expand the definitions of art, music, and the traditional concert format, the festival was founded by co-directors Aaron Foster Breilyn (Music MFA 13) and Luke Martin (Music MFA 16) in 2017 to bring the experimental music community together to collaborate, discuss, workshop and perform.
Organizers explain that this year's festival "will flow and navigate through a set of maps that score the flow of concepts and events by way of nomadic movement through the structure of the residency. Only certain major meeting points (arrival, departure, a couple pre-scheduled concerts) will be predetermined." So expect the unexpected and surprises along the way.
The structure of the festival centers on daily conversations led by resident artist Sarah Ayotomiwa Pitan, and other events as determined and proposed by guest artists, including the daily collective creation of white noise, a sound walk in Middlesex Fells Reservation, an outing to Walden Pond and experimental modes of documenting the festival.
Events will open Friday with a welcome concert featuring four different happenings in and around the Washington Street Art Center. Guest artist showcases will take place on Saturday, Jan. 12 and Sunday, Jan. 13, featuring CalArtians Tim Tsang (Music MFA XX), John Eagle (Music MFA XX) and Music faculty Michael Pisaro. The festival's final concert and presentation of work takes place Jan. 20. All Co-Incidence events are free and open to the public.
The Co-Incidence Festival is hosted by Non-Event, a Boston-based concert series devoted to the presentation of experimental, abstract and improvised music from New England and around the world.
Event Details
Co-Incidence Festival
Jan. 11-20
Washington Street Art Center
321 Washington Street, Somerville, MA
FREE