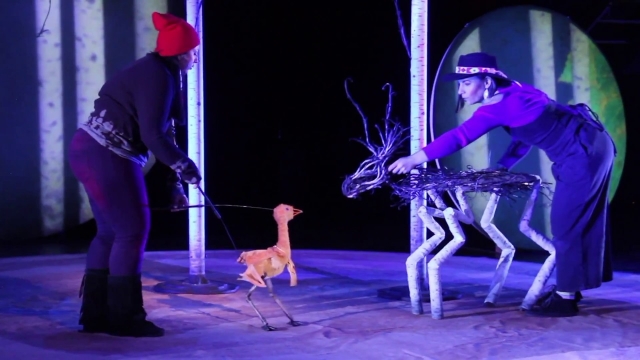 This month, CalArtians Heather Henson (Theater 00) and Ty Defoe (Theater BFA 10) will launch a four-city national tour of their play Ajijaak on Turtle Island.
Co-directed by visionary puppet artist Henson and GRAMMY Award-winning performance artist and playwright Defoe, the production tells the story of Ajijaak, a young whooping crane facing her first migration cycle on Turtle Island (North America) after being separated from her family.
"We are thrilled to bring Ajijaak on Turtle Island to four US cities in 2019, bringing communities together to share in this immersive journey that reflects our interconnectedness with all of creation," Henson said. "Over the last 20 years of producing environmental spectacles, I have seen how puppets can be powerful connectors to nature and how much cranes can teach us. I am grateful to be able to bring together my passion for visualizing environmental issues with Ty's incredible storytelling, and look forward to celebrating the talented artists who bring this show to life."
Using puppets from Jim Henson's Creature Shop, indigenous songs, traditional dance and video projections, the innovative theater experience celebrates the Native American cultures that honor and protect birds like the Whooping Crane, demonstrating the harmonious relationship between humans, animals and the environment. The production also brings together an ensemble of Native American performers from the Ho-Chunk, Lakota, Cherokee, Defoe's native Ojibwe and other nations.
Ajijaak on Turtle Island is the result of a years-long collaboration between Henson and Defoe exploring the resiliency of both endangered Whooping Cranes and the indigenous communities that, like the cranes, have lived in harmony with this continent for thousands of years.
Opening at the Chicago International Puppet Theater Festival on Jan. 17, the production's 2019 tour will also bring it to Baraboo, Wis. (home of the International Crane Foundation), Providence, R.I., and New York City, where it made its world premiere in February 2018.
The youngest child of Jim and Jane Henson, Henson is the owner of IBEX Puppetry, an entertainment company dedicated to promoting the art of puppetry in all of its various mediums, including stage, cinema and gallery exhibitions. She is also a trustee for the International Crane Foundation.
Defoe recently starred on Broadway in the critically acclaimed Straight White Men. In 2017, he was a recipient of the Jonathan Larson Grant for emerging musical theater writers and in 2009 won a Grammy Award for Best Native American Music Album for Come to Me Great Mystery: Native American Healing Songs.
Event Details
Ajijaak on Turtle Island