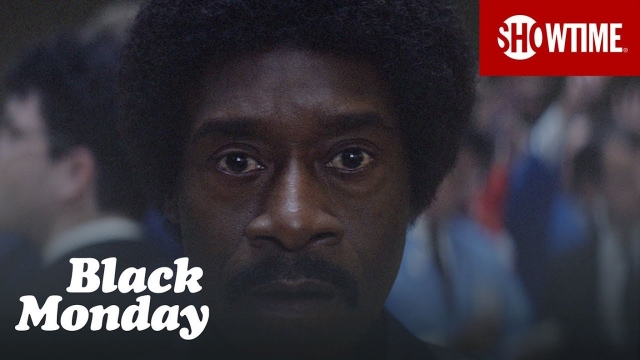 Black Monday, a new comedy series starring CalArts alum Don Cheadle (Theater BFA 86) along with Andrew Rannells and Regina Hall, premieres this Sunday (Jan. 20) on Showtime. The 10-episode series was created by David Caspe of Happy Endings and Jordan Cahan, who worked with Caspe on NBC's Marry Me, and was executive produced by Seth Rogen and Evan Goldberg.
The story, which is set in the year leading up to the 1987 stock market crash, follows Cheadle's character, Maurice "Mo" Monroe, who helms The Jammer Group, an outsider trading company on Wall Street. In the spirit of the cocaine-fueled '80s, Mo is determined to take on the old-boys club of Wall Street, employing a number of unethical means to do so. Consequently, it's Mo's unscrupulous maneuvers that result in a reimagining of what caused the worst stock market crash in history (aka Black Monday). In an article in the New York Post, Cahan said, "'We're looking back from today with a bit of a wink and getting to laud some of the fun about the '80s. And say, 'Look how far we haven't come.'"
From a review in TV Line:
Don Cheadle stars as maniacally ambitious stock whiz Maurice Monroe, dubbed 'the Billy Ocean of trading,' and his performance alone makes Black Monday worth watching: Maurice is a force of nature, literally kicking down doors to secure a spot for himself in the rich old white men's club. In his pursuit of financial supremacy, he takes under his wing dorky newcomer Blair (Andrew Rannells), who's developed a coveted trading algorithm. Regina Hall is a treat, too, as Dawn, the lone female employee at Maurice's company who proves she can be just as gross as the boys.
Academy Award-nominated actor Cheadle is known for iconic roles on the big screen such as Paul Rusesabagina in Hotel Rwanda (2004) and as jazz legend Miles Davis in the biopic Miles Ahead (2015), which he also directed. Cheadle is also globally recognized for his recurring role of War Machine in the Marvel Cinematic Universe. Black Monday marks the actor's return to television since he played Marty Kaan on Showtime's House of Lies (2012-2016).
Viewers who would like to dive into Black Monday ahead of its Jan. 20 cable premiere, can stream the first episode on Showtime's website.