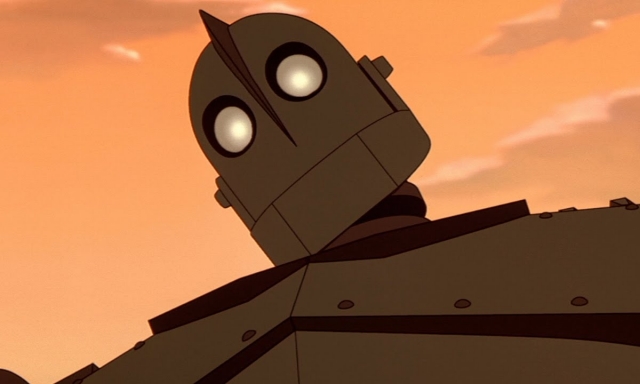 The American Cinematheque celebrates legendary animation director, writer and CalArts alum Brad Bird (Film/Video BFA 76) with screenings of his animated films at the Aero Theater in Santa Monica, Calif., this month.
On Friday, Feb. 1, the series Bird Watching: The Animated Films of Brad Bird kicks off with a 20th anniversary screening of The Iron Giant, Bird's directorial debut. The 1999 cult classic tells the Cold War-era tale of a fatherless boy who befriends a giant robot from space. Bird will attend in person for a post-screening discussion of the film.
When the film was released in 1999, David Ansen of Newsweek wrote:
This is not exactly standard children's fare, but kids (and their parents) should be smitten by its wit and wisdom. Loosely based on poet Ted Hughes's book "The Iron Man," it has been turned by writer-director Brad Bird into a multilevel fable about violence, free will, the continuity of life and–more topically–gun control. At once simple and sophisticated, Bird's "Iron Giant" makes it clear that Disney isn't the only animation game in town.
The following day (Sat., Feb. 2), the Aero screens a double feature of Disney Pixar's The Incredibles (2004) and Incredibles 2 (2018). Bird will also be in attendance for a discussion between films.
The first film became a blockbuster hit that earned Oscars for Best Animated Feature and Sound Editing. Craig T. Nelson and Holly Hunter provide the voices of Bob and Helen Parr, who live in the suburbs with their kids, trying to put their superhero pasts behind them. When Syndrome (Jason Lee) returns with his evil plans, the Parrs don their costumes once more.
The long-awaited sequel, Incredibles 2, was released last year and picks up right where the first film left off 14 years ago. This time around, Bob (aka Mr. Incredible) is left at home to care for the "combustible" toddler Jack-Jack, adolescent speedster Dash and force-field-wielding teen Violet, while Helen (aka Elastigirl) is out saving the world. The film has been nominated for numerous awards including a 2019 Academy Award for Best Animated Feature.
On Sunday, Feb. 10, American Cinematheque hosts a free screening Ratatouille (2004). Described by The New York Times as, "A nearly flawless piece of popular art," the film is set in a famed Paris restaurant where a rodent, who dreams of becoming a top chef, teams up with one of the restaurant's garbage boys. Ratatouille received an Academy Award nomination for Best Original Screenplay and won the Oscar for Best Animated Feature.
Bird began his first animated film at the age of 11, and at age 14 became the mentee of Milt Khal, one of the legendary Disney animators in a distinguished group known as the "Nine Old Men." Before breaking into feature films, Bird directed, wrote and consulted on TV shows such as Steven Spielberg's TV anthology Amazing Stories and Matt Groening's The Simpsons. Bird has also directed two live-action features: Mission Impossible – Ghost Protocol (2011) and Tomorrowland (2015).
Event Details
Bird Watching: The Animated Films of Brad Bird
The Iron Giant
Friday, Feb. 1, 7:30 pm
The Aero Theater
1328 Montana Ave, Santa Monica, CA
Tickets
The Incredibles / Incredibles 2
Saturday, Feb. 2, 2 pm
The Aero Theater
Tickets
Ratatouille
Sunday, Feb. 10, 4 pm
The Aero Theater
Free, RSVP