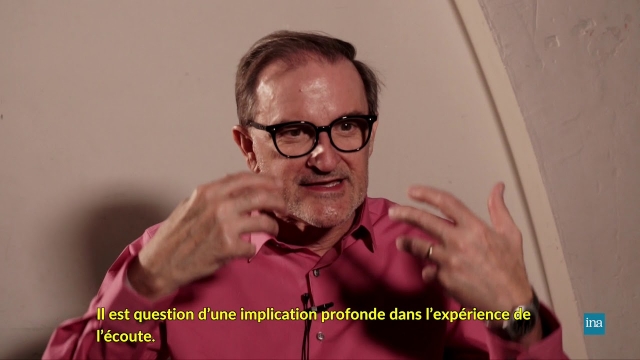 On Friday, March 8, PARMA Recordings and Ravello Records releases Deviant Resonances, a new two-disk album by David Rosenboom, dean of The Herb Alpert School of Music at CalArts. Described as "live electronic music with voices and brains," Deviant Resonances is a progression of Rosenboom's experiments in music composition and neuroscience.
The first track, Portable Gold and Philosophers' Stones, employs the concept of active imaginative listening. The 35-minute piece is created by three performers, two of which are wearing small monitors with electrodes that capture their brainwaves and send them in real time to a computer. The coherent waves that are being transmitted as live electronic sound begin to change as the listeners shift their attention. Rosenboom plays with the sound and the two active listeners react or not, thus directly altering the composition through listening. 
From Rosenboom's album notes:
This is the third and newest realization of Portable Gold and Philosophers' Stones, first created in 1972. This one pays particular attention to goings on inside margins of uncertainty near the boundaries of differentiation that might be associated with recognizable, resonant elements. It also explores how unpredictable transient events may either reinforce or disturb emerging orders among resonant patterns. All this exploration is carried out within the framework of how we might fuse brainwave patterns and musical forms. In the context of performances like this one, our intentions are artistic and inclusive, melding products of scientific investigation and technology with aesthetic inquiries and speculations about the nature of human awareness and our ability to describe what we perceive as self and universe.
The album continues with a range of compositions that experiment with electronics, computer algorithms and live instruments. Both The Right Measure of Opposites and Earth Encomium introduce grounding elements of the physical world through live instrumentation, such as piano.
The concluding tracks, The Experiment and Four Lines (String Quartet) are the only compositions with voice and strings, respectively. According to the program notes, "These compositions call on attentive listeners to experience a constant volley between electronic and conventional instruments as they warp time and space, embellish the soundscape, and attempt to achieve a perfect synchrony."
Currently the Richard Seaver Distinguished Chair in Music at CalArts, multifaceted composer-performer Rosenboom is an internationally known pioneer of experimental music. His work has been featured in concerts and exhibitions around the world including the Whitney Museum of American Art in New York, which presented David Rosenboom: Propositional Music, a 50-year retrospective of his work, in 2015. 
Read Rosenboom's interview with Parma Recordings: The Inside Story: David Rosenboom and DEVIANT RESONANCES.
Event Details
Deviant Resonances by David Rosenboom
Release date: March 8, 2019
Album Pre-Order