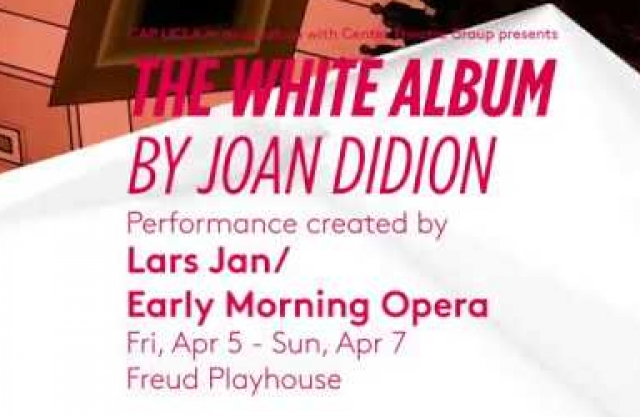 The White Album, a genre-bending performance of Joan Didion's seminal California essay created and directed by CalArts alumnus and faculty member Lars Jan (Theater MFA 08), makes its West Coast premiere on Friday, April 5, at UCLA's Center for the Art of Performance (CAP UCLA).
Running through the weekend and staged by Jan's Early Morning Opera company, the production is only the second of Didion's works to be adapted for the stage.
Published in 1979, The White Album weaves together the author's chaotic memories—of the Manson murders, the Black Panthers, Robert Kennedy's funeral, The Doors, student protests, psychedelic drugs and Hollywood—into an iconic portrait of late 1960s Los Angeles.
Obie Award-winning actress Mia Barron stars in the piece, which combines storytelling, observation, audience participation, architecture and choreography.
Made up of 15 vignettes performed on a set evoking a mid-century home contained by sliding glass doors, the production opens before two separate audiences: the traditional one seated in the theater and a smaller, onstage audience of young artists, activists and students. As the play's action builds to a climax, forcing the audiences to consider the dual meaning of Didion's famous opening line ("We tell ourselves stories in order to live"), the second audience's role morphs from spectatorship to participation.
Underscoring the brutal and unjust similarities between 1968 and the present, The White Album culminates with an open forum conversation between audience and creative team, challenging participants to look critically at the past and charge new paths forward.
"The late 1960s was full of potential energy. That's the genesis of this production – or no, not genesis, more like reading tea leaves, a retrospective realization – to have a conversation about those issues and what they mean," Jan recently told the Los Angeles Times.
Presented in association with Center Theater Group, the production closes out CAP UCLA's 2018-2019 season theater series.
Event Details
The White Album
April 5-7, 2019
CAP UCLA at Freud Playhouse, Macgowan Hall
245 Charles E. Young Dr. East, Los Angeles
Tickets