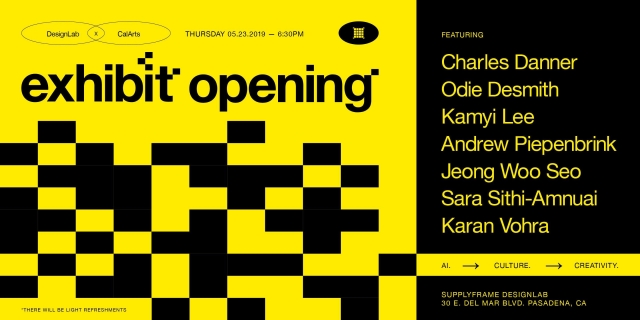 The Supplyframe DesignLab teams up with CalArtians to present its latest exhibition AI. Culture. Creativity. on Thursday, May 23 in Pasadena.
The exhibition showcases artificial intelligence (AI) projects by current CalArts students and alums, and explores the ethical questions frequently posed about bots and emerging technologies. Popular open source machine learning software Wekinator was the projects' primary tool, attesting to its versatility across industries.
AI. Culture. Creativity. was realized by the following CalArtians:
Charlie Danner (Music MFA 20

)

Odie Desmith (Music BFA 19)

Kam Ying (Kamyi) Lee (Theater-IM MFA 18)

Andrew Piepenbrink (Music BFA 18)

Jeong Woo Seo (Music MFA

 20

)

Sara Sithi-Amnuai (Music MFA 19)

Karan Vohra (Music BFA 20)
Danner, Desmith and Sithi-Amnuai will also individually perform 15-minute long musical pieces accompanied by AI.
The same group of CalArtians recently presented an AI showcase at the 2019 CalArts Expo, Who am AI?, which depicted an AI's journey to self-realization.
Artists have increasingly harnessed the potentialities of AI as design materials. Emerging technologies have led to the creation of myriad custom instruments, and allow artists and researchers alike further exploration of material forms and social rules through a culturally focused lens.
Supplyframe's DesignLab offers a suite of professional-grade fabrication tools including CNC routers, milling machines, 3D printers, table saws and laser cutters. The lab also offers three-month-long residencies for innovators, entrepreneurs and artists seeking to realize their ideas.
See below for event details.
Event Details
DesignLab x CalArts: AI. Culture. Creativity.
Thursday, May 23, 6:30-8:30 pm
Supplyframe DesignLab
30 East Del Mar Blvd., Pasadena
Tickets